A legend among those of us at Leeds Grand Theatre, Wilson Barrett was the first Manager and Lessee of our venue from its opening in 1878 until 1894. These days, his name has been given to one of our bars (on the stalls level) and you may see his photo hanging around the building.
But who was Wilson Barrett? A colourful and larger-than-life character (despite his small stature), Barrett was one of the most successful and well-known actors of the late Victorian period, but most of all – he loved Leeds.
Written by Bryony Jameson.
Barrett's Early Days
Born William Henry Barrett on 18 February 1846 in Essex, Wilson Barrett wrote his first play when he was only 14 years old.
Speaking in 1886, Barrett described his playwriting debut: "It had the extraordinary run of three performances in the first theatre I ever managed. It was in the back yard of a corndealer's shop in Goodge-street, Tottenham-court-road. This theatre I and my boy companions had erected ourselves out of a large outhouse. We had a real stage and a real orchestra – one violin, a concertina, and a framework of wood with a brown paper covering which did duty as a drum…The play was founded on the story of 'Robin Hood.' I played Robin Hood." (The Era)
Another early acting incident occurred in Burnley, where 'Barrett and a friend started a show of their own at Burnley, where they opened to one little boy, who was returned the sixpence he had paid to enter. "That little boy got on my nerves so," declared Barrett, "that I gave him back his money and told him if he did not immediately get out he would be fired out. Whereupon he ran for his life."' (Source: Barrett's obituary, 1904)
His first real engagement was as part of a stock company in The Colleen Bawn in Halifax aged 18 where he was paid a guinea a week. He 'rose rapidly to be leading juvenile actor' within the eleven week run. His father was sternly opposed to him entering the dramatic profession and was less than impressed when a young Barrett approached him at an early stage of his career with the information that he was "starving in the streets of Liverpool," he met with the characteristic reply, "Well, where do you want to starve – in Buckingham Palace?"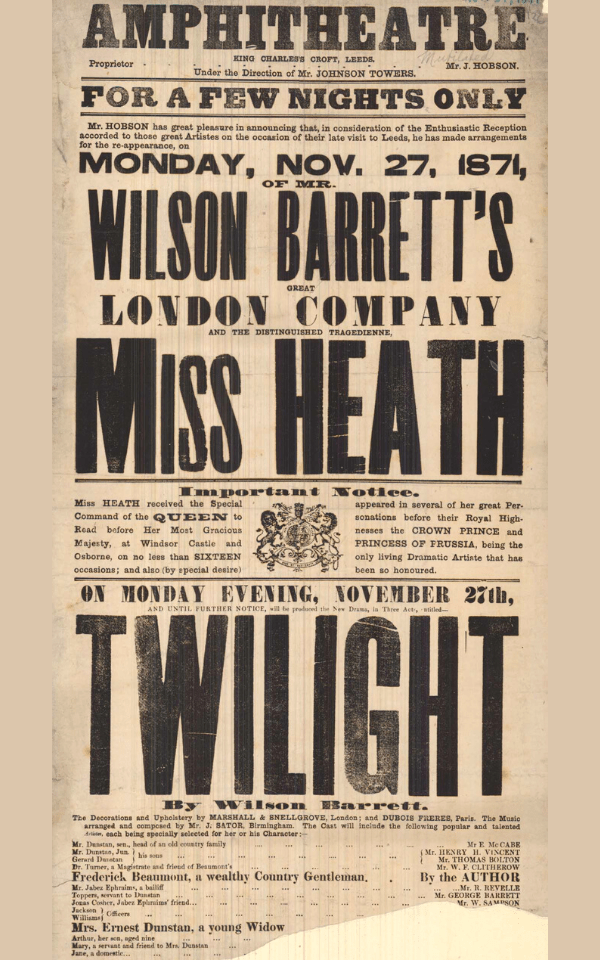 His career progressed rapidly, with Barrett taking on leading roles before the age of twenty, playing 'from night to night the great parts in drama, comedy and tragedy' around the country (The Era, 1886). This expansive touring included an engagement in Aberdeen where he would meet his future wife, Caroline Heath, a successful actress in her own right and ten years his senior.
Newly married, the 1870s saw The Barretts acting together, Wilson setting up his own touring company, before a move into theatre management, 'first in Halifax and Hull and then in Leeds, where in 1874 he leased the old Amphitheatre in Lands Lane' (Thoresby Society). Sadly, two years later on 2 March 1876 a fire completely destroyed the venue. This was catastrophic for The Barretts who 'lost the whole of their valuable wardrobe, jewellery…dresses and properties' (5 March 1876, The Era).
The loss of The Amphitheatre resulted in the city of Leeds having no remaining large-capacity theatres. 'When a company was formed to finance a new theatre for the town [Wilson Barrett] was brought in as consultant' (Thoresby Society).
Success in Leeds
Autumn of 1878 saw Wilson Barrett taking on the management of Leeds Grand Theatre which was 'purposely build for Mr Barrett by the magnates of Leeds' (unknown, c. 1886), at 'a cost of £65,000' (The Era, 1886). This was a fantastic move.
Described by Barrett in his opening speech as 'one of the finest, if not the finest theatre in Europe' (Hull Packet, 22 November 1878), he would continue to manage the venue for a further 17 years with great success.
Ahead of his first tour to America in 1886, an outpouring of love and respect was delivered to Barrett by the people of Leeds and from those in the theatre industry. One newspaper identified 'the simple force of strictly honorable and intellectual good management, coupled with a high ambition to attain the loftiest sphere of drama' as the source of his success (unknown, c. 1886).
In an address given at a 'complimentary luncheon', Wilton Jones said: "we desire to testify our appreciation of your genius as an actor, your tried ability as a dramatic author, your incomparable skill as a stage-manager, and your worth as a manager…the playgoers of Leeds…wish that you may continue to reap the reward which your artistic impulses, your conscientious labour, and your consistently high aim in all that pertains to the drama so richly merit" (The Era, 11 Sept 1886).
What high praise indeed!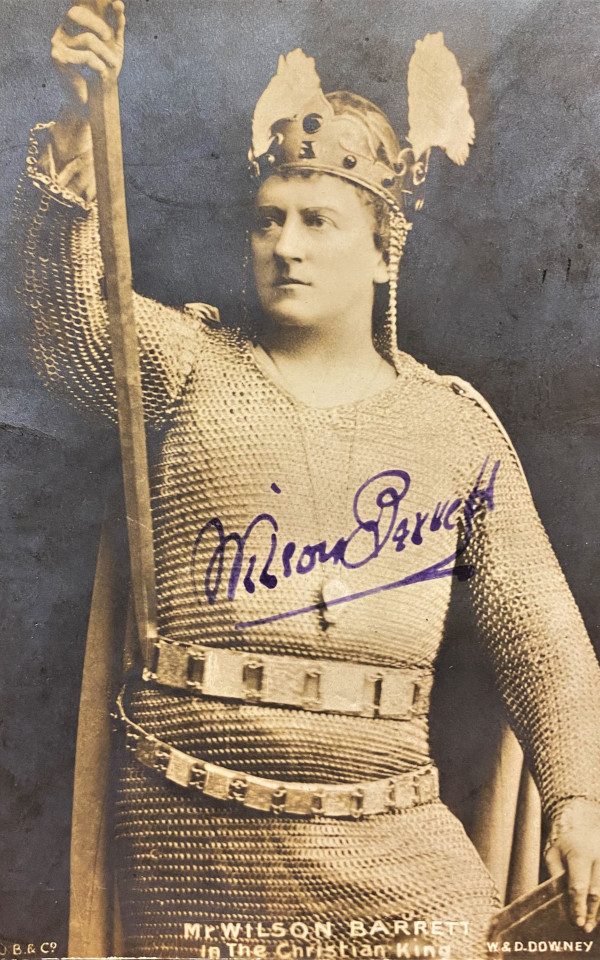 As Barrett's reputation grew, so did his workload, with management responsibilities at The Royal Court Theatre and Theatre Royal Hull alongside The Grand, 'and many travelling companies, besides acting as well' (c. 1886). With frequent tours to America and performances in London, his visits to Leeds were becoming less often and his lesseeship was terminated in 1894 after 17 years at the helm.
Barrett was described as 'heartbroken' following his removal as manager, classing Leeds as 'his home'.
His Legacy
His final decade saw mixed success, from arguably his biggest actor-playwright hit The Sign of the Cross (1895) to the less-popular Daughters of Babylon (1899), The Christian King (1902) and Lucky Durham (1904). He regularly returned to Leeds to perform at The Grand to huge crowds and continued to be successful as the leading man in theatres across the country. At the turn of the century, he also co-founded board game company Waddingtons which started out as a theatre printer!
On 22 July 1904, at the age of 58, Wilson Barrett died under an operation for cancer in London. A huge outpouring of love followed, with his funeral in West Hampstead being attended by 'the public [who] lined the long route' and 'some fifty carriages containing his friends' in the procession (Barrett's Obituary, 1904).
So, what of his legacy? A 'well-known Leeds gentleman' at the time of his passing said: "At the theatre or in his home life he was one of nature's gentlemen. His many acts of kindness were hid beneath a veil of secrecy. He had no wish for the world to know of his charity…but I know, for I have helped to dole out moneys to widows and orphans in hundreds of cases where Mr. Wilson Barrett stepped in to help the needy. It mattered not who the applicants were so long as they were in need, and I am sure there will be many heavy hearts in England to-day. We have all lost a friend, and if for nothing but his kindness to others may he sleep well." 
Sadly, Wilson Barrett isn't the household name he once was, his son (also called Wilson Barrett) followed in his footsteps, forming a popular repertory theatre company from 1939-1954. Today, you'll find his photo around the building and his name above one of our stalls bars. We still channel his passion for excellence in theatre and entertaining the people of Leeds.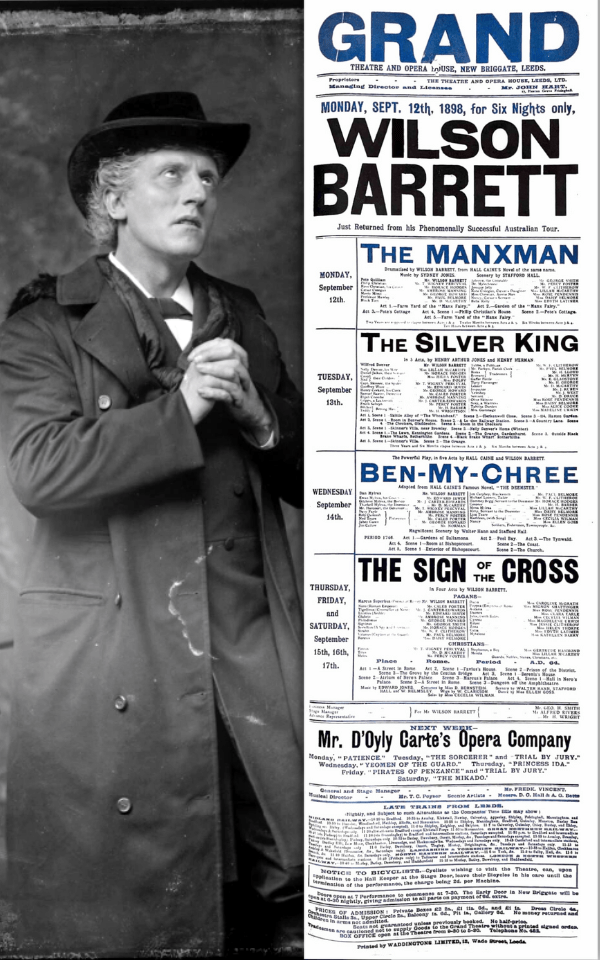 Leeds Grand Theatre Buildings Fund
As a Grade II listed building, we want to preserve Leeds Grand Theatre for future generations, making it more accessible, sustainable, and comfortable; everything we do will enhance your experience as a customer. All donations will be fully invested in ongoing projects, including improved access facilities, changing our lighting to LED, and investing in a new Flying system.