Leeds Heritage Theatres welcomes its latest intern
For #NationalInternDay, we sat down with Kate Southam, our latest intern at Leeds Heritage Theatres. Kate talks about her role as the first student to work across both our Learning & Engagement and Communications team, the interview process, and the advice she has for those applying for internships.
This internship was made possible by the University of Leeds and Santander.
Written by Kate Southam
About Kate
I am finishing my Masters in English Literature at the University of Leeds, so alongside this internship, I am working on my dissertation. I've been really enjoying my time with Leeds Heritage Theatres, and it's still a little surreal being able to work in a theatre each day! I've taken part in a few internships over the last few years – with the Advancement Team at the University of Leeds, as part of the Creative Life Stories programme, and with Blake Friedmann Literary Agency.
The Communications and Learning Intern role is the first internship that Leeds Heritage Theatres has run in collaboration with the University of Leeds and Santander, which in itself was a pretty exciting prospect. So far, I have had the opportunity to:
take part in press nights
shadow tours around the theatre (the auditorium is surprisingly eerie when it's completely empty – especially when you know all the ghost stories!)
make social media content with a focus on Leeds Grand Youth Theatre and attend lots of rehearsals for LGYT's production of The Addams Family, which have been really amazing
take part in workshops with The Grand Academy, such as Play in a Week, Auditorium Arts, and Drama Day
delve through archival material
attend the Arts Marketing Association conference
write a range of blogs, and
take part in a TikTok (which felt a little like a rite of passage)
In short, these seven weeks have been the best kind of busy – and I've been lucky enough to be part of the most welcoming and friendly team anyone could meet. I've also been able to learn and develop so many skills, which has meant that I have secured a role with the National Poetry Centre as their Assistant Coordinator.
The Application Process
The application process for this internship was surprisingly nice. Rather than submitting a full cover letter, I had to submit my CV and answer three questions: what drew me in particular to this role? what experience I had that would make me a good candidate? And why I wanted to work for this company in particular? It was refreshing to have a bit of structure to my application, and these questions also meant that I could make my answers a little more personal.
When I had the (slightly surprising) news that I'd been invited to interview, I was delighted, then a little thrown by the fact that it wasn't like any interview I'd had before. Instead, it was a group interview with a few tasks and a presentation. It felt like a lot, and I was very nervous, but ultimately I knew I had been invited there for a reason. Initially, it was nerve-wracking, but ultimately it was really enjoyable being able to collaborate with such a range of people, especially as a lot of the discussions we had have fed directly into the work I'm doing now. My key takeaway from this interview process has been to speak confidently about yourself, your skills, and your experiences. It really is the chance for interviewers to get to know you a little bit more.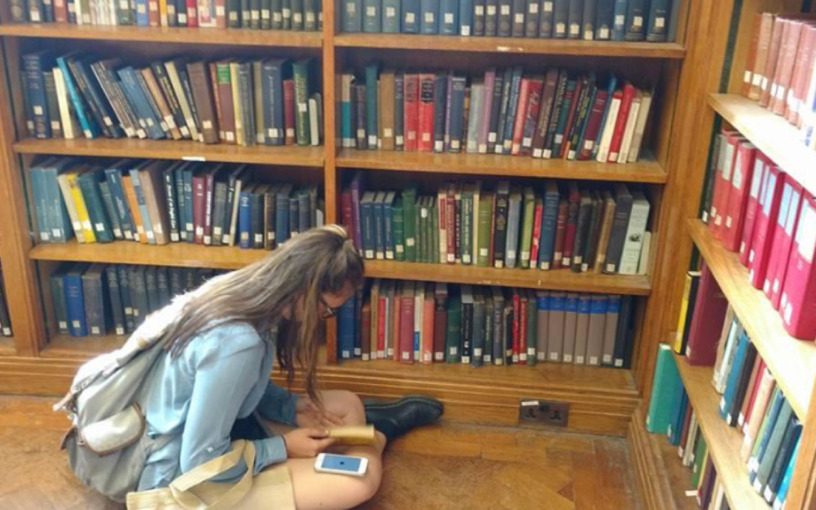 Kate's Advice
Some of my key takeaways from interning over the last few years have been:
to apply, even if you think you only meet a few of the requirements. Have confidence in those requirements you do meet, and be honest about anything that you are uncertain of. Having a willingness to learn is a really important skill to have for any role
to put yourself out there. Some of my internships have been doing jobs I never would have expected, but I've had the best time with them because of this. Any experience is good experience, even if the internship doesn't seem immediately relevant to what you're planning on going into. This goes for talking to as may people in the team as possible, too
to ask questions. Whilst this can be daunting (and 16 year-old me definitely wouldn't have been doing this!), it is so valuable. There isn't ever a stupid question, and team members are always happy to explain things in more detail. An internship is, above all, a learning experience
to keep track of everything you get up to, no matter how small it may seem. There will always be some way to incorporate it into your CV, LinkedIn, or other applications, and all of the skills will be relevant to you in the future
to have fun, and make the most of the time at the internship!
I would undoubtedly recommend applying for an internship with Leeds Heritage Theatres if they run one again. It will be a fantastic experience and you will be a part of an amazing team who are incredibly welcoming.
Leeds Heritage Theatres Engagement
Every year, we work with over 10,000 young people across the city, in schools, youth groups and other sessions to help them build skills, confidence and pride through our creative learning and engagement programme. All donations to this fund will help us to continue our work and reach more people across the Leeds City Region.