In Conversation With... Jessica Davison
Peek behind the merch stand at Leeds Heritage Theatres and meet Jessica Davison, our Sales and Merchandise Supervisor.
Written by Ellen Carnazza.
Describe a day in the life of a Sales and Merchandise Coordinator?
A day in the life as a Sales and Merchandise Supervisor is always exciting and unpredictable as every day is different (in a good way). It all depends on the type of show or performance we have in that week. I begin with a 'Get-in' which is the day when all the merchandise arrives with the company. This is the most important day of the week as I must count and check that all the merchandise has arrived.
My favourite part of the day is setting up the kiosk display which is positioned in the foyer. I love to be creative and imaginative when visual merchandising each show; I aim to make this eye-catching as it is essential to engage our audiences to encourage sales.
On a show day, I am responsible for all sales, including house programmes, a wide range of sweets and refreshments, and our in-house merchandise. I also work with visiting companies to sell their merchandise. Depending on the show, the merchandise ranges from T-shirts, Hoodies, Brochures, souvenirs and much more!
What three skills do you think are most important in your role?
Organisation, communication and creativity are the most important skills needed in my role: I need to be organised to manage my workload and to know what tasks need prioritising; communication is essential with both colleagues and audiences; and creativity – I love being creative.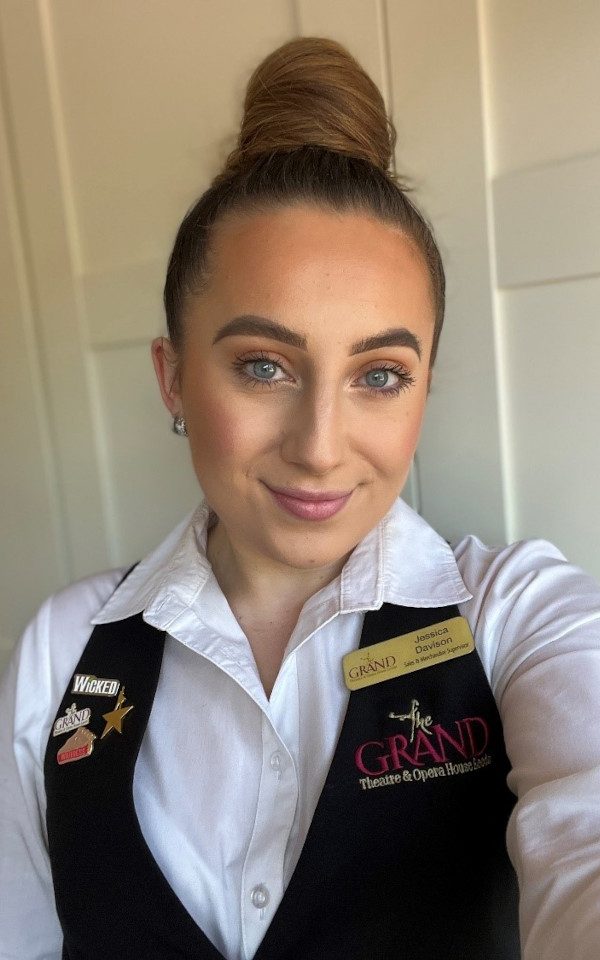 What has been the highlight (to date) of your time at Leeds Heritage Theatres.
I have had many highlights; from starting as a Front of House Attendant, to meeting the loveliest people I get to work with every day. The friends I have made during my time working here have become like a second family to me. I also get the amazing opportunity to see all my favourite shows and performances. However, my favourite highlight was being promoted to the Sales and Merchandise Supervisor. This was such a proud achievement for me to work in a role I love, and be able to develop my career in the theatre industry.
What is the most challenging thing about your role?
I would say the challenges can vary depending on certain times of the year and the type of show I am working on. We never know how busy we are going to be until the shift begins and the audience enters. The challenges can also differ depending on how popular the merchandise is for certain shows. I think that experience will help me face the new exciting challenges each new show brings. Behind the scenes, my role can be physically challenging when carrying programme boxes, merchandise and sweet deliveries. Challenges come in different ways, so it is important I use my skills to maintain a balanced focus between the sales and merchandise.
What advice would you give to anyone thinking about working as a Sales and Merchandise Supervisor?
You need to have good attention to detail, be practical and creative, and be able to use your initiative. You must be organised, and good at multitasking and communicating. Excellent customer service skills are essential, and knowledge of the shows; It helps if you are enthusiastic and have an interest in the Arts. It's important to have an overall understanding of what visual merchandising is and be able to see things from different perspectives.  You must be prepared to work hard and often long hours. But, overall, it's the excitement and joy the role brings that makes it very rewarding.
Favourite venue – The Grand, Varieties, Hyde Park? Why?
My favourite venue is definitely The Grand! I just love this venue. It holds my favourite type of shows which are musicals. I love the atmosphere it creates when the theatre is at full capacity. The positive environment during and after the shows; it's the best feeling seeing the audience's smiles and enjoyment, as well as hearing the lovely comments at the end of every show.
The Grand is where I started and where I am mainly based which is also why it is my favourite venue; I do love all our venues though, as they all have their own unique beautiful characteristics and I find it so interesting hearing the stories about each venue.
Favourite show/act/film you have seen at one of our venues?
My favourite show to have seen at The Grand is Wicked. This was one of my favourite shows when I studied performing arts, so to work with the show was amazing. This was also the first show that I trained and worked on merchandise; which was when my interest began in sales and merchandise. Some other favourite shows are Kinky Boots, Cabaret and SIX.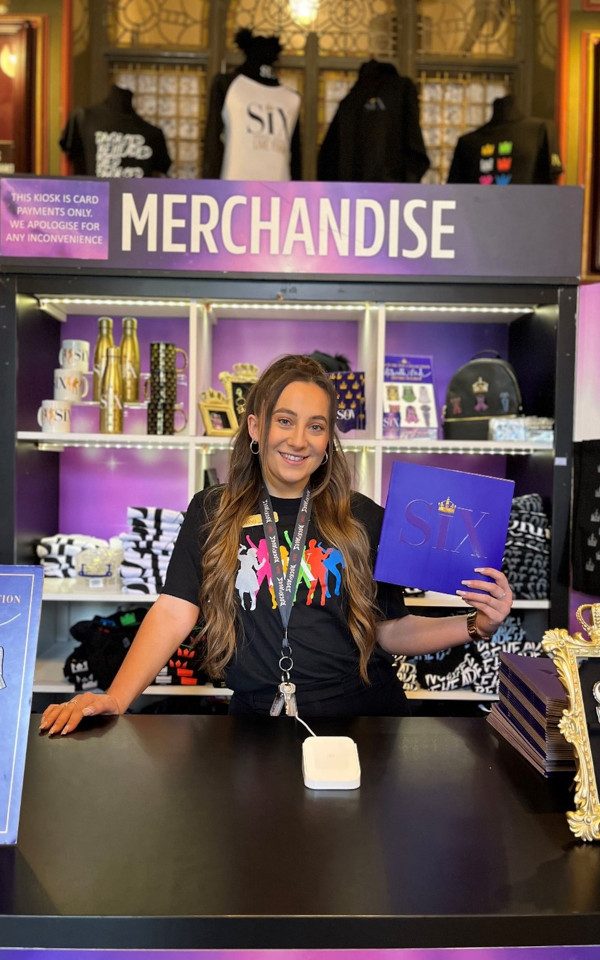 Favourite job – other than your current role?!
My favourite job, other than my current role, was when I worked as a Front of House Attendant. I absolutely loved checking tickets and directing patrons around the theatre, and selling ice creams, sweets and house programmes in the interval. The best moments were seeing parts of the show each shift.
And finally… Favourite thing to do on your day off?
My favourite thing to do on my days off is to spend time with my puppy. He keeps me very busy; we love going on our long dog walks together. I also like to keep myself healthy by going to the gym in my spare time.