International Artist Day with Dominick
For #InternationalArtistDay, we've sat down for a conversation with Dominick Haider, one of our Customer Experience Supervisors. As well as working at Leeds Heritage Theatres for over two years, Dominick's artwork of the venues has recently been displayed in our staff communal spaces.
Written by Dominick Haider
Describe a day in the life of a Customer Experience Supervisor.
It varies depending on what venue and what floor I'm working on. Before I even start doing my floor checks, I make sure that the rest of the floor team has everything they need, while I go around checking if anything's broken, out of the ordinary, missing or misplaced. If I have some time before we open to the public, I help other people, because there's always something to put away, clean, bring etc.
Once we're open to the public I mix patrolling the floor, checking on the bars, sales point and floor staff with greeting the patrons coming to my floor. When the show starts I tend to help around with the bars and sales points to make sure they're ready for the interval. At the same time I am at the disposal of the staff in the auditorium if they happen to have a problem with a customer and need my help. Something always happens at the interval. Whether it's a customer complaint, a problem with technology, long queues that need to be managed – it's the most hectic time of the shift. After the interval, it's important to quickly finish all the logistic tasks like cleaning the bars, counting the stock and putting away the ice creams, so that as many staff as possible can be in the auditorium. Then, at the end of the shift, we shut all the doors and give feedback to the duty manager.
What three skills do you think are most important in your role?
Multitasking, leadership and time management. Without those three, good luck motivating your team and dealing with five situations at once!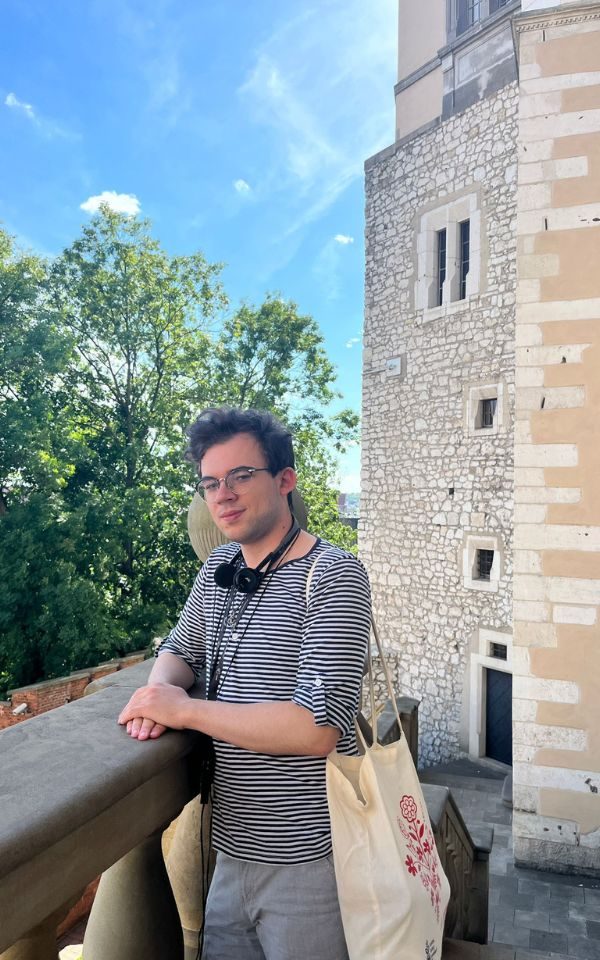 What has been the highlight (to date) of your time at Leeds Heritage Theatres?
It's the people. Working with them is a lot of fun, and I've learned so much from them too.
What is the most challenging thing about your role?
It must be how many people rely on you. It's not only the floor team, but the customers and the managers as well. Sometimes literally everyone will need something from you at the same time: a customer having an issue, another customer requiring first aid, a problem with technology at the bar, a request from a duty manager. And you must be able to prioritise and provide.
What advice would you give to anyone thinking about working in a similar role?
Make sure that you can actually work in a team and, more so, support them.  If you're the kind of person who'd want to have a delegated task and everyone in the team is doing only their own thing, this job probably wouldn't be for you.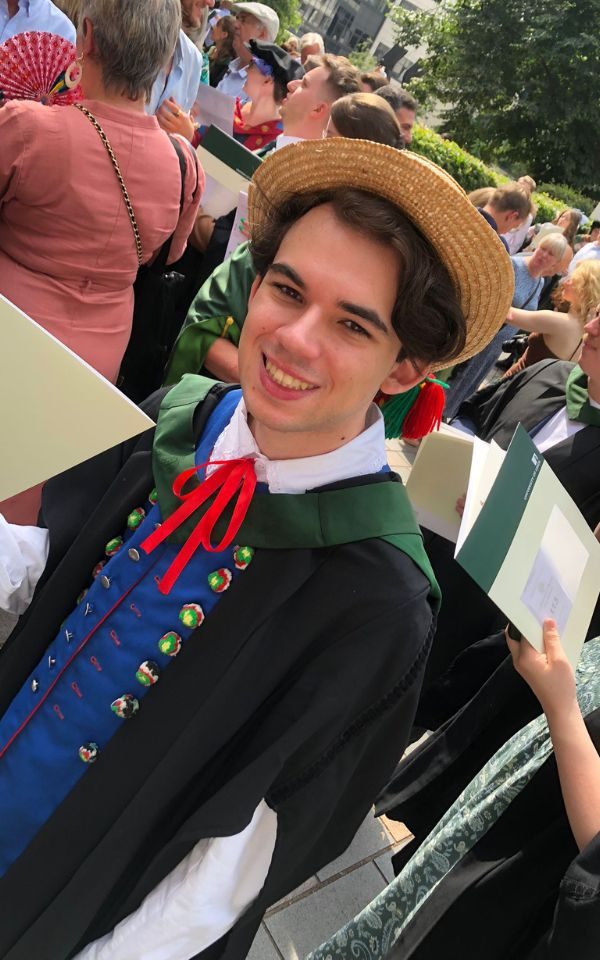 Dominick's Favourite Things
Favourite venue – The Grand, The Varieties, Hyde Park? Why?
Hands down, The Grand. I'm a history freak and although the Grand is actually younger than City Varieties, I think you can feel way more history in here. From the more ostentatious (in the best way possible) neo-gothic and eclectic look, to the more traditional types of shows that we tend to get here. Not to mention the almost mysterious atmosphere that can transport you back in time. I heavily recommend walking around the building, especially when it's raining outside and you can see it on our grand staircase ceiling, or looking out of the windows in the Howard Grand Hall. It guarantees to make you feel like you're in a Victorian novel. And who could forget about the ghosts?
Favourite story about that venue?
It's always funny when we get really big names starring in shows that come to The Grand, because it very often ends with a race between the celebrity and their avid fans. Especially when it's a double show day and the talent has to grab something to eat in between shows. One of the funniest examples of that was Joseph and the Amazing Technicolour Dreamcoat. One of the stars didn't manage to make it out in time one shift and unfortunately the street, and by extension their car, was blocked by a crowd of fans eager to meet them. You can imagine it was interesting going out the stage door for your own lunch break that day.
Favourite show/act/film you have seen at one of our venues?
Northern Ballet's Casanova made a huge impression on me. It was such a beautifully crafted story with a stunning set and costumes. I couldn't take my eyes off stage. Not to mention the ballet audience is always so lovely, so working those shifts was just pure pleasure.
Favourite thing to do in your spare time?
I'm a gamer, but I also love nature and greenery, so depending on the weather and how I feel it's either a nice gaming session or a walk in a forest or a park. When you work a job where you meet literally hundreds of people every shift, I find it crucial to get as much alone time as possible for balance.
What would you be doing if not in your current role?
I would fully embrace the side of me that loves working here because of the history. Maintaining the building and popularising knowledge about the architecture, as well as history of culture, theatre, customs and classes in Victorian times would let me share my passion with others and ensure that the heritage wouldn't be lost, in disrepair, and forgotten.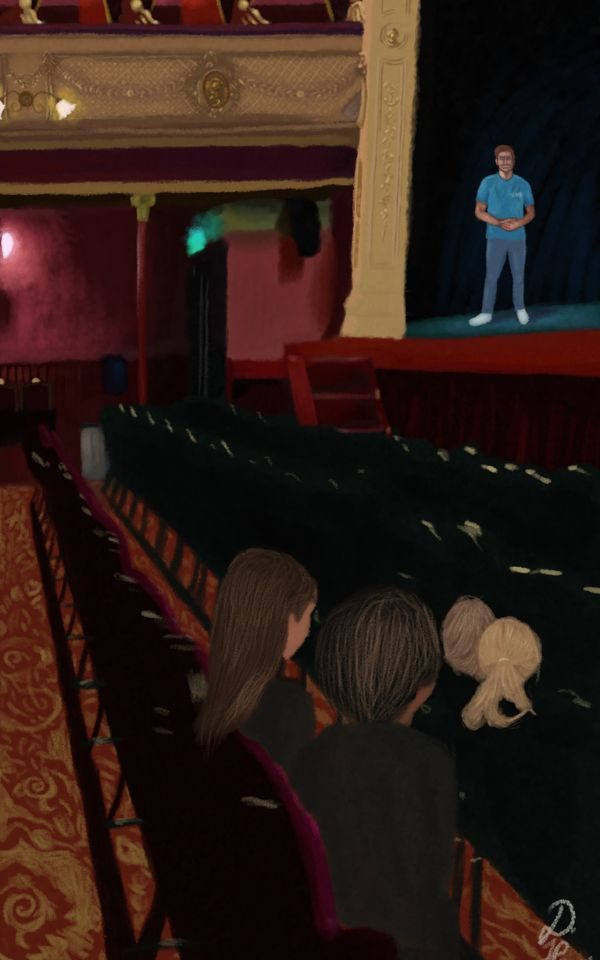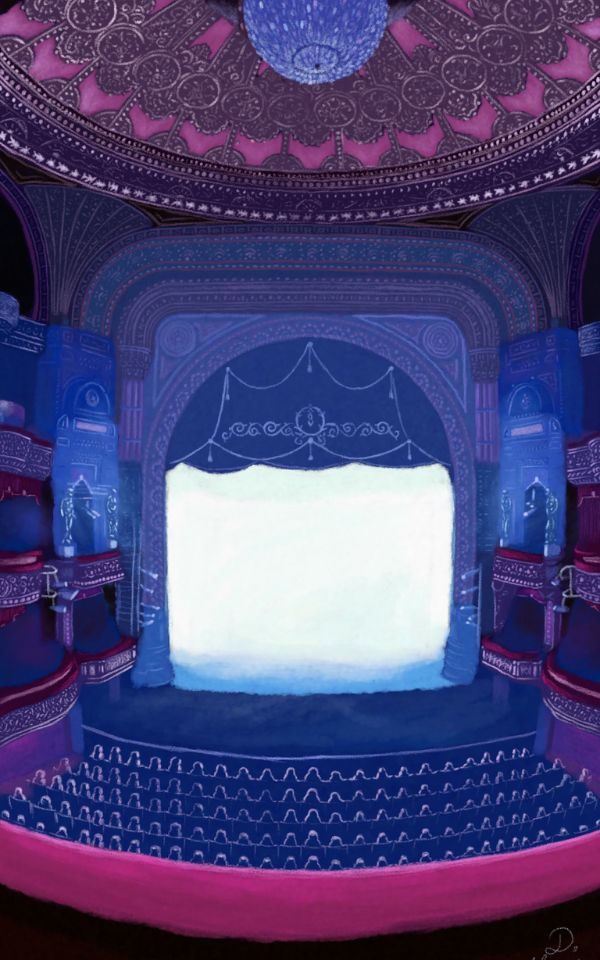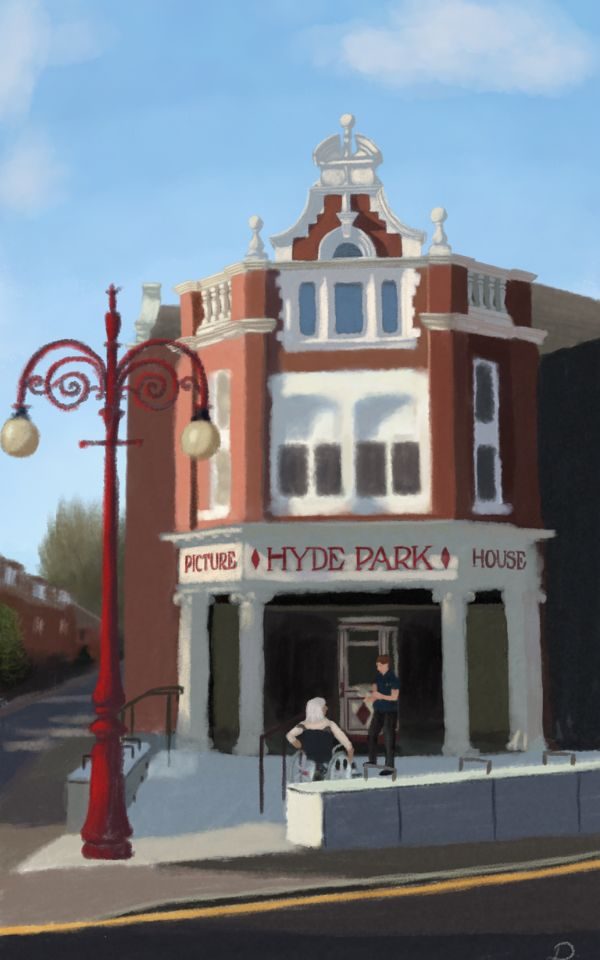 All About Art
Tell us about your art – how did you get into it?
I think it's just the easiest and most precise form of self-expression for me. With visual art you can show things exactly like you have them in mind, with little room for misunderstanding or misinterpretation. Also, I feel like everyone likes looking at the things they like, so by making art you basically do the same and additionally tailor it to your own needs.
But I also work with textiles – embroidering, crocheting and sewing. And I started working with 3D form, so far by clay modelling, but I want to try whittling in the future.
This variety only adds to your freedom of expression. You can choose the medium based on what you think suits the subject best.
Besides the illustrations of the venues, what else do you like to create? What's your artistic process?
Apart from digital drawing, I sometimes sketch and very rarely work with paints. I find it too messy for my autistic needs, so I usually stick with my sterile and precise graphic tablet.
I'm really connected to my heritage as a Pole and a Slav, so in my art I explore and try to learn the forms of my ancestors. Not to mention it's a great way to remind me of home while I live in the UK. For example, I embroider traditional Lasovian and Rzeszów patterns. I think my favourite subjects are folklore and the supernatural. Especially since so much has been lost to time, it's so fun to imagine all those Slavic ghosts, gods, spirits and rituals that we know so little of.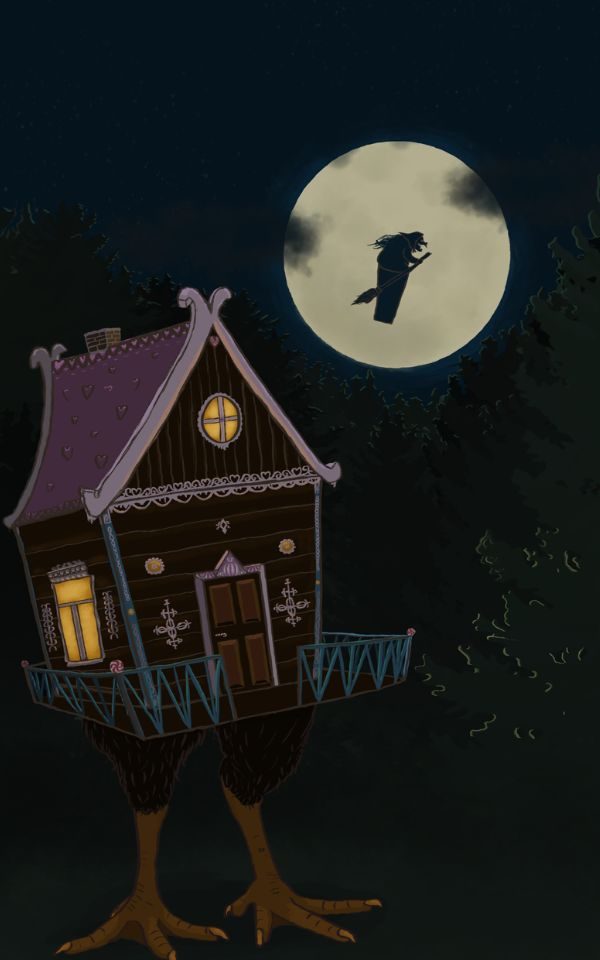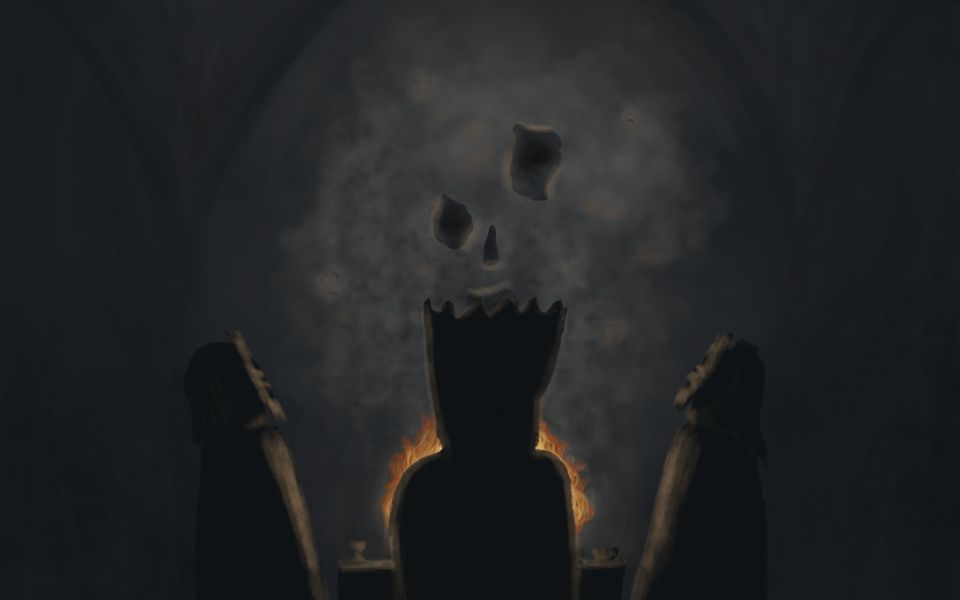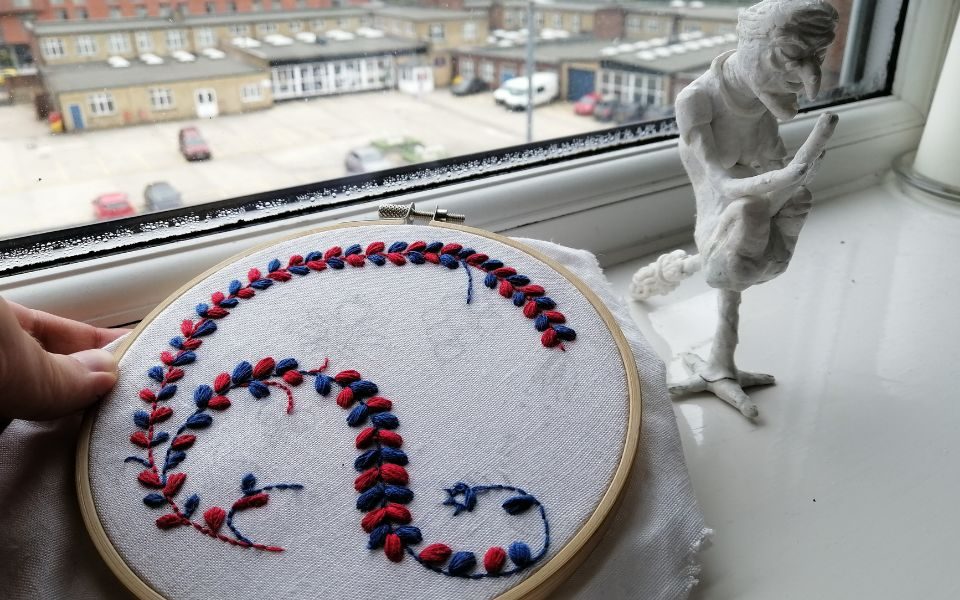 Theatre for All
At Leeds Heritage Theatres, we believe that the arts and culture have the power to change lives, improve well-being, and remind all of us of what connects us as humans.
We believe that theatre is for all.
With your help, we hope to increase and improve our Access performances offering for audience members with visual impairments or who are D/deaf or hard of hearing. Thank you.