Maintenance Week at The Grand
Every summer Leeds Grand Theatre closes for two weeks for equipment testing, decorating and essential maintenance.
Specialist teams take over the whole theatre to complete the works and ensure The Grand remains operational for many years to come.
Written by Bryony Jameson
The Auditorium and Ceiling
Our 'Grand Old Lady' needs some close attention occasionally to keep her looking so, well, grand. Maintenance has been going on in all areas of the Auditorium, from the boxes to the bars, seating to the ceiling.
One team with an excellent head for heights is Ornate Interiors. Their job is to inspect, clean and undertake any required repairs to the plasterwork ceiling. To do such a thorough inspection requires them to view the ceiling from both sides – via a crane (or mobile elevating work platform (MEWP)) in the auditorium, and via walkways using harnesses to inspect the void above.
To allow for the the works, lighting above the ceiling is turned on which gives us a rare glimpse of the gaps in the plasterwork and the mechanism of the chandelier.
Finally, contrary to popular belief, we do not use the MEWP to clean the chandelier as it is too delicate to do from such a height. We lower the chandelier down to the seats. Mystery solved!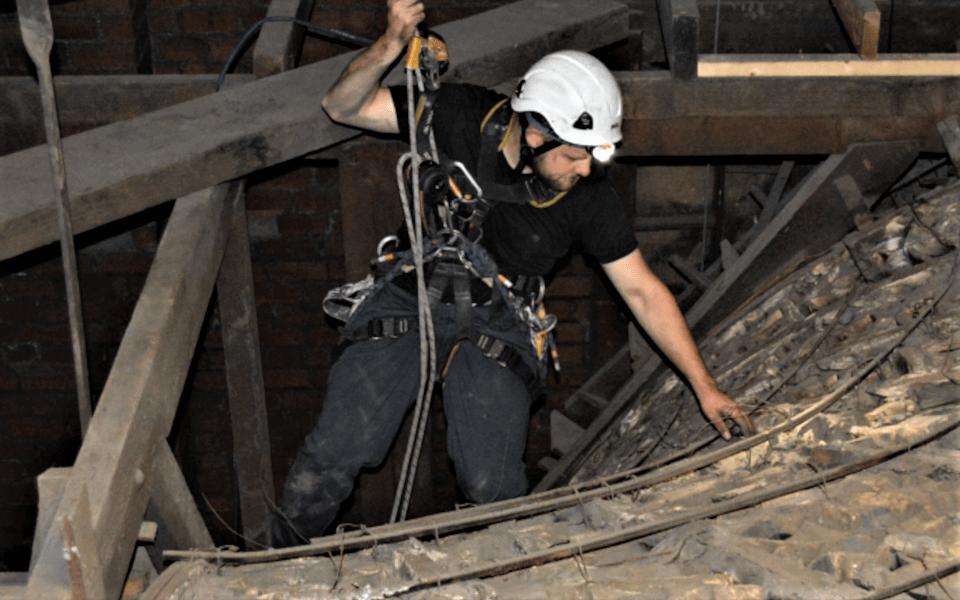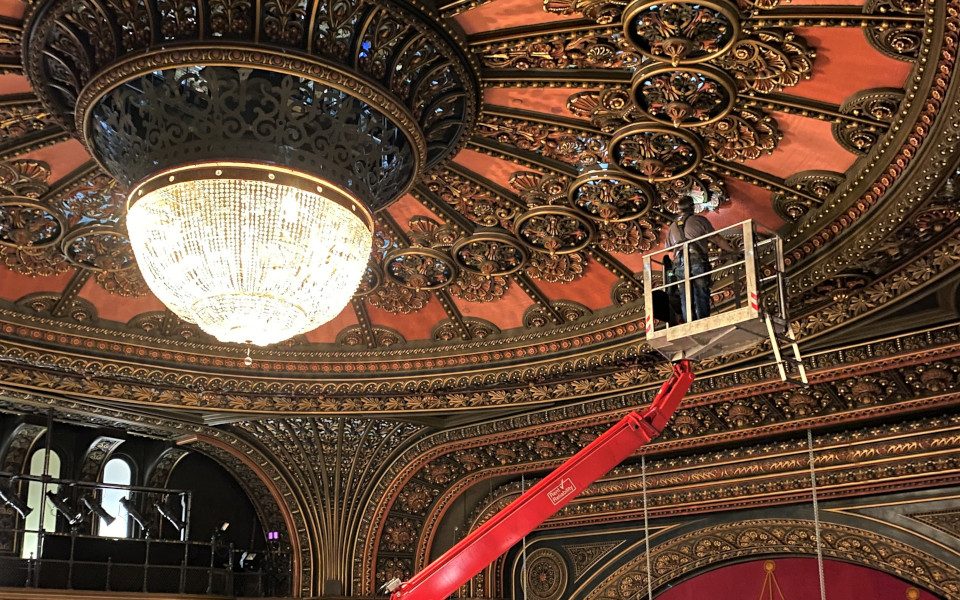 Backstage
Maintenance Week is the time when our Technical team can make the most of an empty stage and perform important equipment tests to make sure everything remains in working order.
These include inspections from UK Rigging of our PPE equipment and motorised systems, TClarke inspecting our electrics and heating, Centre Stage Engineering testing our iron curtain, and more!
One of the priorities of this Maintenance Week is the installation and upgrade of our fly floor and flying system. Originally installed during our transformation in 2005, the flying system allows our stage crew to hoist curtains, lights, scenery, special effects and sometimes people (!) on and off stage quickly, quietly and safely.
Now, with growing technological advancements, our system has been getting an all-important revamp with a dream team of experts, along with a brand-new floor. The 'super fly guys' are, of course, maintaining their eclectic decor!
Front of House
Familiar smiling faces across our theatres are G B Decorating. Often seen with a big smile on their faces, they are experts at restoring plasterwork and paintwork in heritage buildings.
Previously they have restored ornate plasterwork and matched paint colours in our auditorium, decorated our iron safety curtain and have even discovered original paintwork at The Varieties!
This time around they are Front of House refreshing our foyer entrance. With a very high ceiling and ornate plasterwork dating back to our opening in 1878 – this is no mean feat!
The team visited back in April with colour swatches and made notes on the paint shades required so any work matches the original scheme. This way, our theatre feels refreshed while keeping hold of the original design.