In Conversation With... Anna and Paul
Meet our Marketing Officers, Anna and Paul – the marketing dream team at Leeds Heritage Theatres. We asked them about their roles, their favourite shows and our venues. The pair are so in-sync (as you'll see in their answers), you might even suspect they are the same person!
Written by Anna Margerison and Paul Watt
Describe a day in the life of a Marketing Officer?
Anna: This is very difficult as no two days are ever the same. At any given time, we're managing marketing campaigns for five or six shows at Leeds Grand Theatre and countless at City Varieties Music Hall, so there are a lot of deadlines. There can be a lot of last minute pressures depending on sales so we have to be reactive to make any urgent changes in the lead up to an opening.
Paul: I know it's a cliché but I agree that no two days are the same. It can be very desk-orientated; balancing budgets, liaising with promoters/producers/suppliers and ensuring campaign deadlines are met. It could also be running around the building checking print inventory or even pretending to be dead for a Cluedo campaign. I also work from home some days which usually involves a lot of conflict resolution – not with my colleagues though, just keeping my dogs from scrapping.
What three skills do you think are most important in your role?
Anna: Organisation, adaptability and creativity.
Paul: Adaptability, creativity and patience.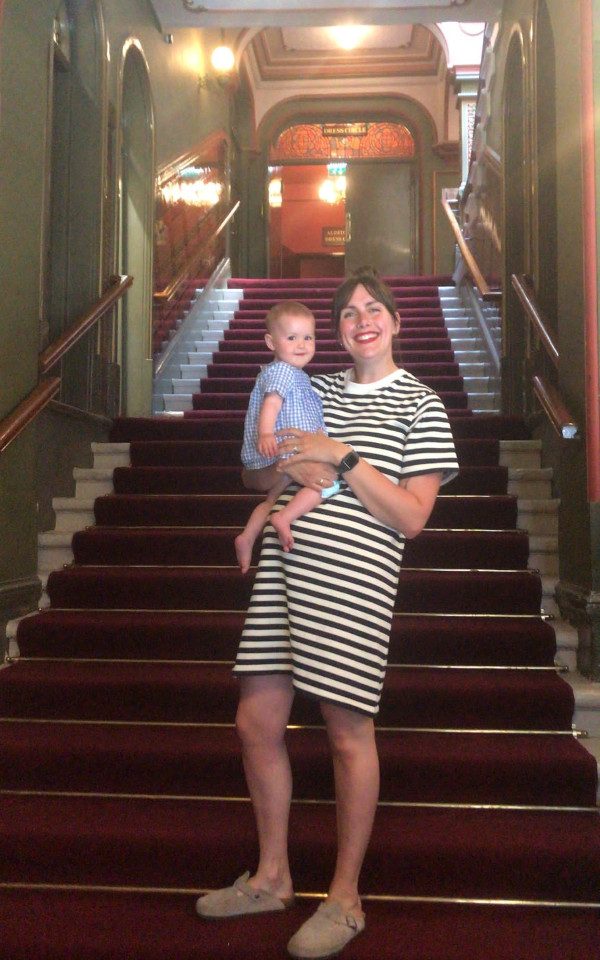 What has been the highlight (to date) of your time at Leeds Heritage Theatres?
Anna: There are so many! During my first week I got to meet Sting which was incredible, but I've also really loved some of the big events we've been part of – premieres of Calendar Girls and Grease, Leeds Grand Theatre's 140th birthday, the pop-up in the Victoria Quarter, chasing the three little pigs from Shrek around the Trinity Centre and getting to climb above the chandelier with our Head of Technical, Alan.
Paul: It's hard to pick a particular highlight, so I think for me it has to be when the curtain came up at the press night for Heathers in 2022. It was the first show I went to see as a member of staff here and it was a very full circle moment. I was sat seeing a show that I'd wanted to see for ages at a venue I'd been wanting to work at for ages. It was also the first show I saw after lockdown and the energy in the room was palpable. I remember welling up.
What is the most challenging thing about your role?
Anna: In 2021, after seven years in Leeds, I moved home to Scotland to have a baby. I have continued to work remotely so I miss being able to go into the office. Sometimes it's just easier to be in the same room as people to figure out a problem or make a plan. Despite having the best teammate in Paul, we've still never met in real life!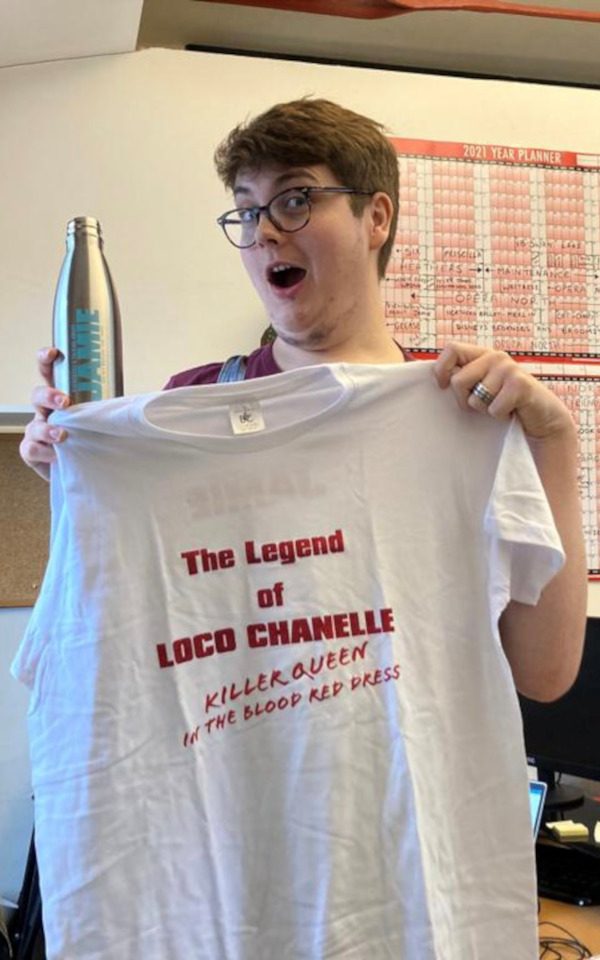 Paul: I'd say working across the different venues, mainly because the styles of the marketing campaigns are so different. Every show will have their own promotional preference to how their budget is spent; it could be any combination of print, digital, radio, television – you name it! Staying on top of the various copy deadlines that follow on from those conversations adds to the challenge – it's all about joining up the dots.
What advice would you give to anyone thinking about working in marketing?
Anna: If you don't like communicating with people or having to change all your work at the last minute – this role isn't for you!
Paul: I'd say be ready to work hard to hone your skills. It's an ever-changing landscape. Systems are constantly being updated providing exciting new tools and insights. I always try and sign-up to training webinars whenever possible so that I can try to keep up with it all or at least have an awareness of current trends.
Favourite venue – The Grand, The Varieties, Hyde Park? Why?
Anna: It has to be The Grand. I was blown away the first time I walked in and just found it such a privilege to work on the sixth floor every day.
Paul: I hate to say it, because each venue has its own striking beauty, rich heritage and exciting programme but I love The Grand. I remember going on a trip in my previous job to see Opera North's Kiss Me Kate at The Grand, ahead of its transfer to the London Coliseum. On the journey home, I couldn't stop thinking about how much I wanted to move back to Yorkshire and work for a venue like this. Three years later, I saw a job opening, applied and I'm now fully convinced that I have superpowers since I was able to manifest this for myself.
Favourite story about that venue?
Anna: There are so many that can't be shared but I am a big fan of the ghost stories. Unfortunately, I haven't had any spooky encounters… yet!
Paul: One of my favourite things is coming to The Grand when a show is doing their sound check. I get to live the dream of having a soundtrack to my life. Marching up to the office to the Carmen overture or pretending I'm one of the iconic ex-wives from SIX as I go to get my lunch. Chicago was in town and a few colleagues had been adding some Fosse Flair to our interactions. I thought I saw Kelly from the Communications team and showed off high-kicks, arm swooshes and jazz hands galore, only to realise, it was not her and was in fact a member of the cast – who, to be fair, matched my energy and danced back.  I like to think they took it as a complement, however I wanted to die!
Favourite show you have seen at one of our venues?
Anna: I'm lucky to have seen so many but, perhaps unexpectedly, my favourite was This is Elvis. I thought I was going to hate it so I went in with zero expectations but I have never seen an audience react to a show like that. It was totally electric and amazing to witness.
Paul: I'd probably say Waitress. I had loved the Broadway cast recording since it was released and just finished working in London when it transferred to the West End. I was so excited when I heard it was coming to Leeds and it did not disappoint. Hearing the songs live by such a talented cast – the fabulous Lucie Jones and Matt Willis from Busted – teenage me was in heaven!
Favourite thing to do in your spare time?
Anna: I'm so lucky to live in such a gorgeous place. I'll either go to the beach for a swim or to the urban beach in the city centre and grab a coffee, have a wander round the Victoria and Albert Museum and hopefully get a chance to read my book if the baby has a nap!
Paul: When I'm not in work, I really enjoy baking, walking my two crazy dogs (Fleur and Harvey), re-watching old episodes of Grey's Anatomy or RuPaul's Drag Race and I even play video games sometimes (because I'm a LAD).
What would you be doing if not in your current role?
Anna:  I think I'd like to work in publishing.
Paul: I would either write the next All I want for Christmas and just live off the royalties forever. Or I'd be an Imagineer for Disney, designing new attractions for their theme parks because, let's face it, there's literally a roller coaster in The Emperor's New Groove and they never thought to recreate it?! Amateurs.
Leeds Grand Theatre Buildings Fund
As a Grade II listed building, we want to preserve Leeds Grand Theatre for future generations, making it more accessible, sustainable, and comfortable; everything we do will enhance your experience as a customer. All donations will be fully invested in ongoing projects, including improved access facilities, changing our lighting to LED, and investing in a new Flying system.