On Tuesday 17 May, the Leeds Heritage Theatres family was shocked and saddened to hear of the death of one of our good friends, supporter and bringer of wonderful productions to our stage, Kay Mellor.
As Leeds says a final farewell to one of the UK's greatest female writers, directors and actors, three members of our team share their memories of Kay, paying tribute to a friend and colleague.
Written by Kelly Scotney.
Kay Mellor – champion of the north (northern women in particular), creator of some of the UK's best-loved dramas, and supporter of new talent – was also a good friend to our venues; proudly revealing The Grand's blue plaque in 2013, championing the regeneration of The Varieties from 2009 – 2011, and choosing The Grand as the home venue for the premiere of Fat Friends The Musical in 2017 and Band of Gold in 2019.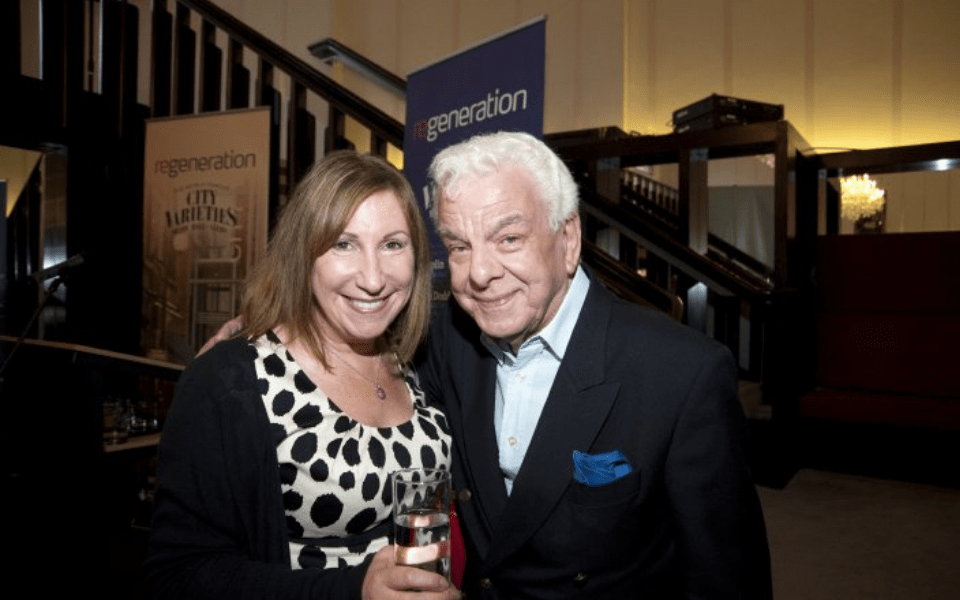 Pat Bruce, Deputy Box Office Manager
"I always found Kay to be so friendly, kind and welcoming. She was a wonderful lady who just seemed to love, and be interested in, people and their experiences.
"I was hugely privileged to attend workshops for Fat Friends The Musical and Band of Gold. She wanted to know your thoughts about her work; she wanted your input, even when I was too shy to give it. She made people feel like their opinions mattered.
"We chatted about slimming groups and rituals at weigh-ins! 
"Kay will be so sadly missed, by not only the team at Leeds Heritage Theatres, but the world of theatre itself."
Kelly Scotney, Communications Manager
"I was lucky enough to work closely with Kay twice, first on Fat Friends The Musical and then on Band of Gold.
"It was in my first week at Leeds Heritage Theatres that I met Kay. Imagine, meeting Kay Mellor in your first week in a new job and asking her to put faith in your PR abilities for her premiere stage show. To say I was nervous was an understatement, but I needn't have been. In our first meeting at Rollem Productions' head office, her down-to-earth nature, passion and genuine enthusiasm for all the PR opportunities I suggested to promote Fat Friends immediately put me at ease. Said opportunities included a photo call at The Fisherman's Wife in Headingley, a collaboration with the BBC's Children in Need (and 1000's of donuts!) and countless TV, radio and print interviews.
"Nothing was ever too much trouble. She went out of her way to make herself available for anything and anyone. And, you might say, 'well doesn't everybody who's needing to promote something', no, no they don't. Some people do not respect or see the value in 'free press', Kay did, she totally got it and was a consummate professional throughout. 
"She never shied away from honesty, on numerous occasions she said to me "what am I doing, writing a musical?!" but she believed in the project, the people around her and more importantly herself. She always believed in herself and her need to tell other people's stories and that's why she succeeded. She never gave up. 
"I feel genuinely privileged to have worked with her. She shaped my PR career at Leeds Heritage Theatres and opened my eyes to what can be achieved if everybody works together, is willing to take a chance and not settle for the 'norm'. I will be forever grateful to her, and I thank her very much for her belief in me."

Ian Sime, General Manager
"A lover of all of the Arts, Kay enjoyed every genre of production, especially the best dramas and the glorious lavish musicals. Moreover, Kay enjoyed the comradery of the shared experience. She always shared a word with other theatregoers and staff alike, and always listened to others' opinions about the play they had just seen.
"On one such evening, Kay told me that she held an ambition to stage her own musical at The Grand. Everybody has dreams. Kay had plans. Within weeks, I was invited to a luncheon at the Swan pub; Kay intended to write a musical version of Fat Friends. I knew that hit television series well that starred Alison Steadman, Lynda Baron, Lisa Riley and Gaynor Faye, and launched the careers of James Cordon and Ruth Jones. In the autumn of 2016, I received an invitation to attend a secret workshop. Kay had been introduced to Nick Lloyd Webber, an up-and-coming composer, with a rather talented mentor. Many of the songs from that workshop made the cut. I still have the riff 'Julia, Julia, Julia Fleshman' firmly locked in my head. Our mutual friend Jane McDonald squeezed me and said "I love it!".
"At the end of the performance, Nick's father had a word with Kay. There is only one person for the role of Kelly. It has to go to Jodie Prenger. Who could argue with Sir Andrew Lloyd Webber?  The Grand hosted the world premiere of Fat Friends The Musical on Tuesday 7th November 2017. The company included Natalie Anderson, Sam Bailey, Rachael Wooding, Neil Hurst, Kevin Kennedy, Natasha Hamilton, Chloe Hart, Jodie Prenger as Kelly, and as her hapless hubby and marking his theatrical debut Andrew Flintoff.
"Audiences loved Fat Friends the Musical. It remains one of the theatre's biggest hits ever. On the opening night, I casually asked Kay, so what's next? Within seconds she expressed a desire to stage her ground-breaking and still much-admired drama Band of Gold. Her theatrical producer Josh Andrews was still planning the forthcoming tour of a brand new musical. Suddenly, he had yet another new project to manage.
"Like Fat Friends The Musical, the workshops and rehearsals for Band of Gold took place in the Grand Studio in the basement of the Grand Theatre. These sessions were a labour of love, and I so enjoyed chatting to Kay after a long rehearsal workshop. Another stellar team of artists and creatives worked endlessly on the hard-hitting drama. Kay surrounded herself with the best the industry could offer and she was loyal to her team.
"Within seconds Kay could describe the protagonists, not as two-dimensional characters, but as real rounded, yet usually flawed people we could all identify with. Indeed, at an early workshop of Band of Gold I complemented Kay on the multi-layered, confused and often violent character Steve. He could have been portrayed as a mindless thug, but no, Kay's Steve was damaged, angry, and crippled with the stress of poverty. Kay quietly said to me, I know that man. That was chilling.
I will forever consider myself privileged to have worked closely with one of the great playwrights of our age. Moreover, I am honoured to have known Kay as a very dear friend."