The Legacy of Soft Machine
To celebrate International Jazz Day on Sun 30 April, we look back at an interview written in 2019 with members of Soft Machine, including current members John Etheridge and Theo Travis, about writing albums and songs.
Written by Klemen Breznikar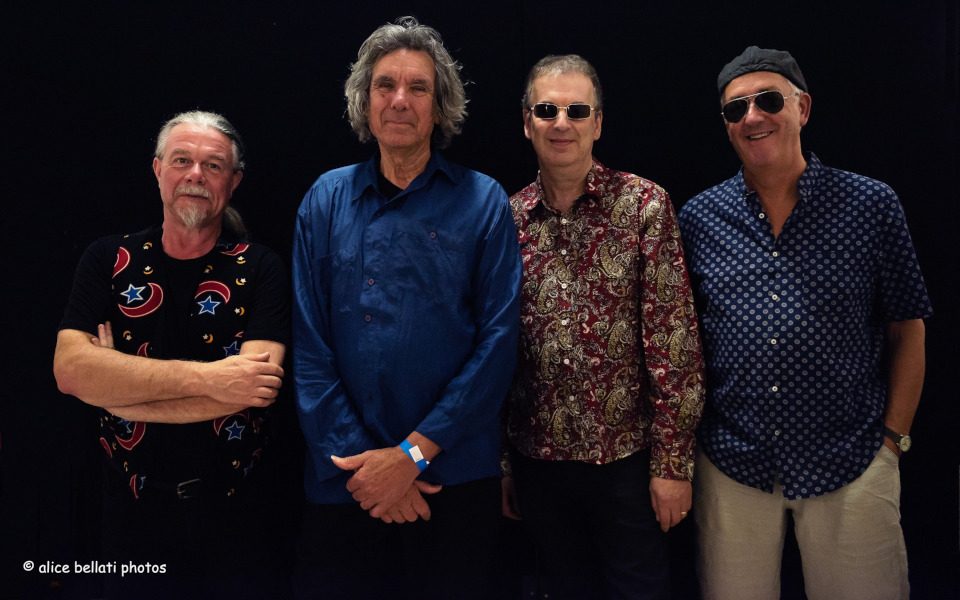 Soft Machine is a legend and institution of British music.
Since its creation in 1966, this band pioneered Psychedelic and Progressive Rock, led the Canterbury trend, pioneered jazz-rock, and then guitar-led fusion – Jimi Hendrix briefly jammed with the band in 1968!
Soft Machine's existence is continuing to expand its discography. Did all members participate in writing songs? 
John Marshall: It was a mixture of structured pieces and completely improvised pieces. The range of experience of everyone is incredibly wide, covering the whole musical spectrum, and the principal composers (Theo Travis and John Etheridge) are of course completely familiar with how everyone plays. Playing solos, duos and trios also helps to change the perspective on the music.
Roy Babbington: Rehearsing new material with Soft Machine is usually trying out unnamed bits and pieces, which evolve into frameworks for improvisation. In preparation for this recording there were exceptions. John Etheridge's One Glove, Heart off Guard, and his lovely ballad Broken Hill were all ready to record with very little tweaking as was Theo's Hidden Details and Fourteen Hour Dream. We have also included a piece from Soft Machine's well known album Third.
John Etheridge: Theo and I do the main composition writing and there are a few tunes that you might call conventional compositions. Of course all the players bring their own take on these. Then there are semi-compositions e.g. Ground Lift, Life on Bridges, where there is a lot of improvisation and a composed riff, plus free improvs. The Improvisational element is central to this band.
Theo Travis: Yes, we were all involved. John Etheridge and I did the most writing and we each brought various tunes that we rehearsed with the band to see if they worked. John Marshall and Roy Babbington did contribute also e.g. to Ground Lift and Breathe, and also some of the pieces were freely improvised in the studio and were all equally involved in the spontaneous composition of those pieces.
What would you say influenced you the most? Have influences changed during the years?
John Marshall: My early listening was to British big bands like Ted Heath and others. There was a dispute then between the UK and US Musicians' Unions which meant that American musicians couldn't play in Britain and vice versa. So when I was put onto small group jazz it was also mainly UK groups live and American on record. The drummers I liked were the classic bebop drummers: Kenny Clarke, Max Roach, Art Blakey and of course Roy Haynes. In London I listened to people like Phil Seaman, Ronnie Verrell, Bill Eyden etc-all great players.
Roy Babbington: I was born in 1940 around 15 years before the Rock & Roll revolution. I was introduced to the double bass in 1952, then took an interest in the guitar at  17 and was suddenly in a Rock & Roll band called Denny Brand and his Rockets. Six months later I became a professional musician playing double bass and earning money. Able to afford jazz records, my first influences were bass players such as Jimmy Blanton with Duke Ellington (I still have a love of big bands), Slam Stewart, Oscar Pettiford, Ray Brown and Scott la Faro. The bass guitar wasn't reckoned to be a jazz instrument until bands like Blood Sweat and Tears appeared.
John Etheridge: That started with Hank Marvin, then Django Reinhardt, then Eric Clapton, Jeff Beck, John McLaughlin and Joe Pass. These were my most formative influences. Since then I have admired many great guitarists. My particular inclination is to contemporary jazz influenced players – John Scofield, Mike Stern, Allan Holdsworth, Pat Martino, Pat Metheny, Bill Frisell – the usual suspects! I do actually love to hear guitar players and am aware of most of the great ones, but I'd say that after a time one has absorbed a certain variety of influences and they remain at the core of your being.
Theo Travis: We are all influenced by a whole host of different factors, and each have our very different musical influences. It is the bringing together of those contrasting and complementary influences that makes us the musicians we are and the sound that is Soft Machine today.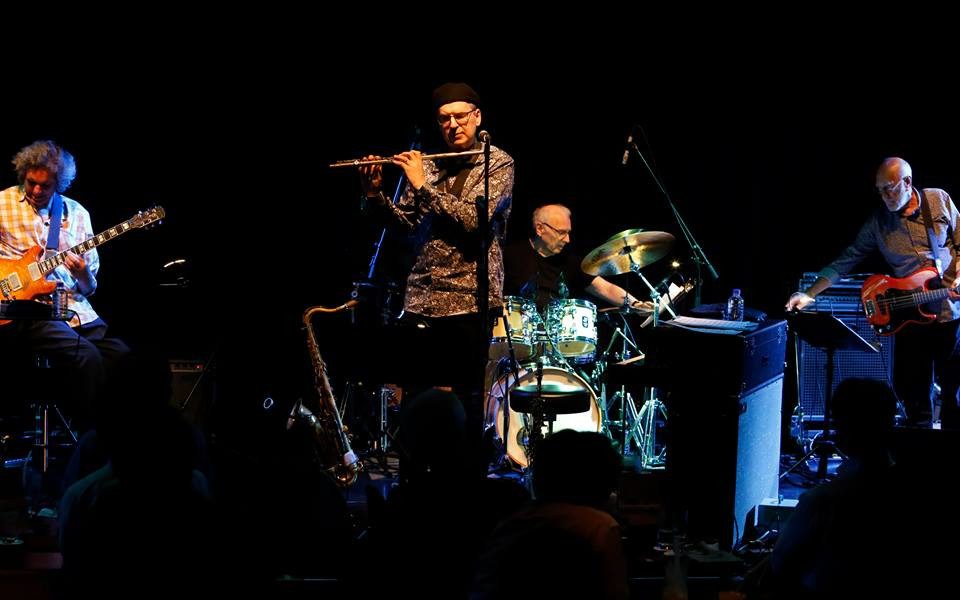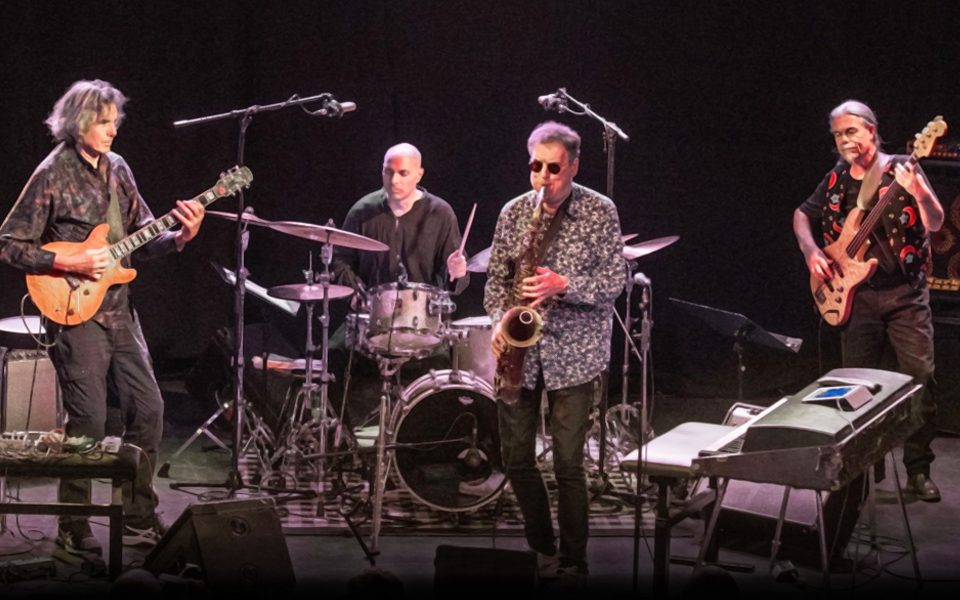 Let's end this interview with some of your favourite albums.
John Etheridge: I'm a terrible listener actually! But I was asked recently to talk about an album I'd recommend to somebody getting into Jazz and I mentioned In A Silent Way (Miles Davis). So I went back to listen to this record which blew my mind in 1969. It's wonderful – the density of the sound. The fact that there are no chord changes, but still a swirling textural harmony working away underneath, like a gentle cauldron. John McLaughlin gently noodling in the most atmospheric way and stunningly constructed solos from Miles and Wayne Shorter. It's a Masterpiece!
Theo Travis: Stan Getz-Sweet Rain, Miles Davis-In a Silent Way, Brian Eno-On Land, King Crimson-Red, The Who-Quadrophenia, Talk Talk-Spirit of Eden, The Beatles-Abbey Road, Yes-Close to the Edge, John Martyn-Solid Air, Tubby Hayes-Mexican Green. Nothing very new or secret there, but all amazing albums that mean a lot to me. I really like the more recent releases King Crimson-Live in Chicago, David Torn-Only Sky and Fionn Reagan-The End of History but don't keep up with the latest latest. There is so much great old music to catch up on.
Thank you. Last word is yours.
John Marshall: Thanks for your interest and apologies for the fragmentary response to your questions.
Roy Babbington: Soft Machine in its various forms has for fifty years seen a plethora of fine musical talent.
John Etheridge: There's only one important element in the end in music and that is connection to essence of some sort. I was watching a documentary on John Coltrane. In his mature years, just one note from his horn connects you through him to something universal and healing. This is the essence of music and all art.
Theo Travis: Thank you too! Keep on listening and keep smiling!
City Varieties Music Hall Building Fund
The City Varieties Music Hall is the gem in Leeds' crown. As the city's oldest theatre, we want to ensure that Britain's longest, continuously operating music hall is here for future generations, making it more accessible, sustainable, and comfortable. All donations will be fully invested in the building and equipment and will enhance your experience as a customer.