This post is presented in loving memory of Paul O'Grady and Barry Humphries.
Whether it's Danny Beard in June, or La Voix in October, we've always got room for a queen or two on our stages. But, long before the birth of cultural powerhouses like RuPaul's Drag Race UK and Queen of the Universe, our venues have been providing a space for drag performers to revel in their rightful applause.
Written by Aaron Cawood
Variety Queens
At the birth of the British Music Hall scene, drag acts were one among the plethora of variety acts who could be expected to tread the boards. Both male and female impersonators were relatively common as early as the 1900s, with performers such as Vesta Tilley and Julian Eltinge donning their finest wigs and costumes to present as the opposite gender.
The later we look at the timeline, the more we start to see acts of this kind showcased at The Varieties.
The history at our venues may first begin, most traceably, with the prevalence of drag acts in The Good Old Days. Danny La Rue, a now well revered drag performer, entertained audiences at The Good Old Days many times, establishing herself as a regular favourite.
And Danny would not stop at The Good Old Days; some of the fondest memories of La Rue come from her role in the Potato Room Players production of La Cage Aux Folles. For this production, it was described that Danny specifically was 'pulling in the crowds.'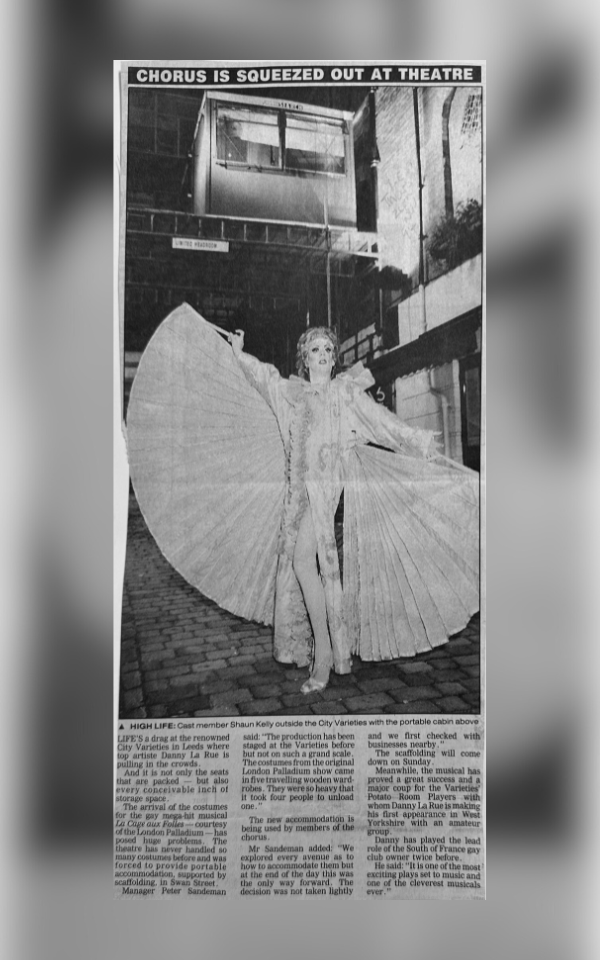 Hit double act Hinge and Bracket were commonplace stars at the time. Following their conception in 1972, and their success on TV and radio in the 1980s, Dr Evadne Hinge and Dame Hilda Bracket (the performance personas of George Logan and Patrick Fyffe) could regularly be found treading the boards at The Varieties.
Before their incline to stardom though, their history included appearances in The Good Old Days, adding their names to producer Barney Colehan's list of acts who gathered mainstream fame following the show.
Their infectious branding as eccentric female musicians made them the perfect fit for The Good Old Days, and they went on to entertain audiences until 2002, due to the unfortunate passing of Patrick Fyffe.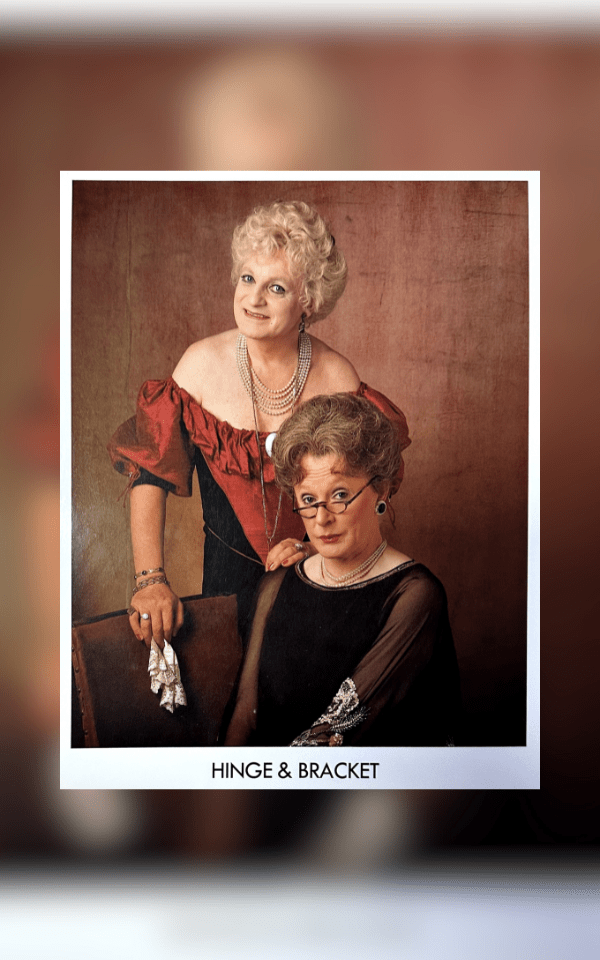 Lily Savage
The history of female impersonation and general drag performance in the UK is a colourful and political one, reflected best perhaps by the late Paul O'Grady who, himself, was known for the persona he donned beneath a back-combed wig.
Lily Savage became a staple of British entertainment, from a residency at the Vauxhall Tavern to features on hit TV shows including The Big Breakfast and Top of the Pops. Her own televised special, An Evening with Lily Savage, won a National Television Award in 1997 for Best Entertainment Program. This then led to Sunday show The Lily Savage Show on BBC in 1998.
Lily graced The Varieties multiple times, including in 1993 and 1994, bringing her iconic act to the heart of Leeds.
O'Grady expressed a classically humorous affection for the venue, noting in an interview that "the place is falling to bits, but you wouldn't care if the roof fell in while you were working – it is that wonderful."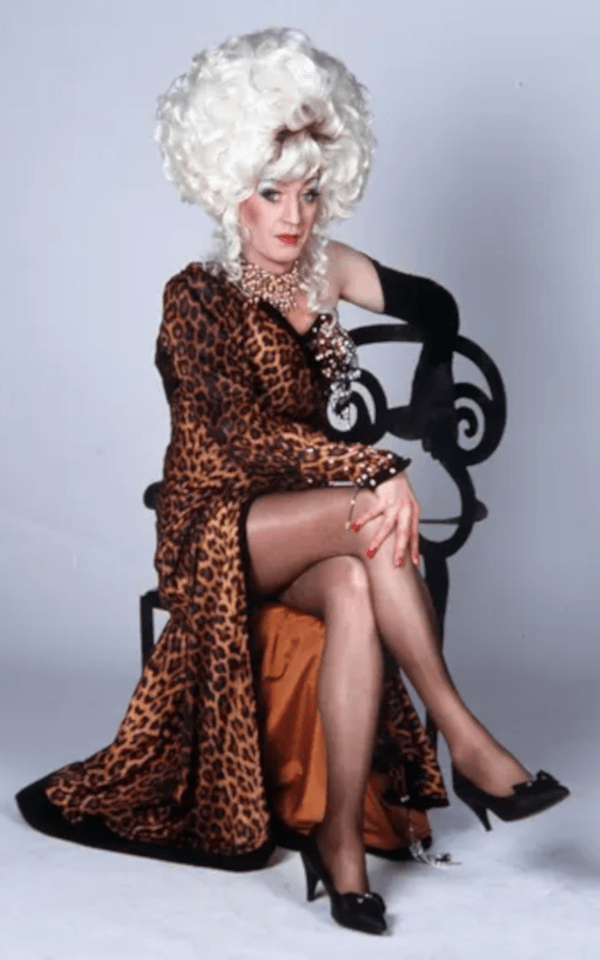 Dame Edna
Barry Humphries was an Australian entertainer, best known for his own comic acting, and his performances as his drag persona, Dame Edna Everage.
Conceived first in 1959, Dame Edna wowed crowds in Australia with witty social satire. This led to inevitable mainstream success, including the creation of The Barry Humphries Show in 1976 and The Dame Edna Experience in 1987.
Her relevance as a beloved public figure was established most clearly in the 1970s when she was granted damehood.
Dame Edna made a home for herself at The Grand, including her Olivier Award-winning show A Night with Dame Edna, which came to us in 1995. Later, in 2014, Dame Edna returned for her Farewell Tour only weeks before planning on hanging up the wig and retiring the character. Though she could never leave the world waiting; Dame Edna made her final public appearance in 2019.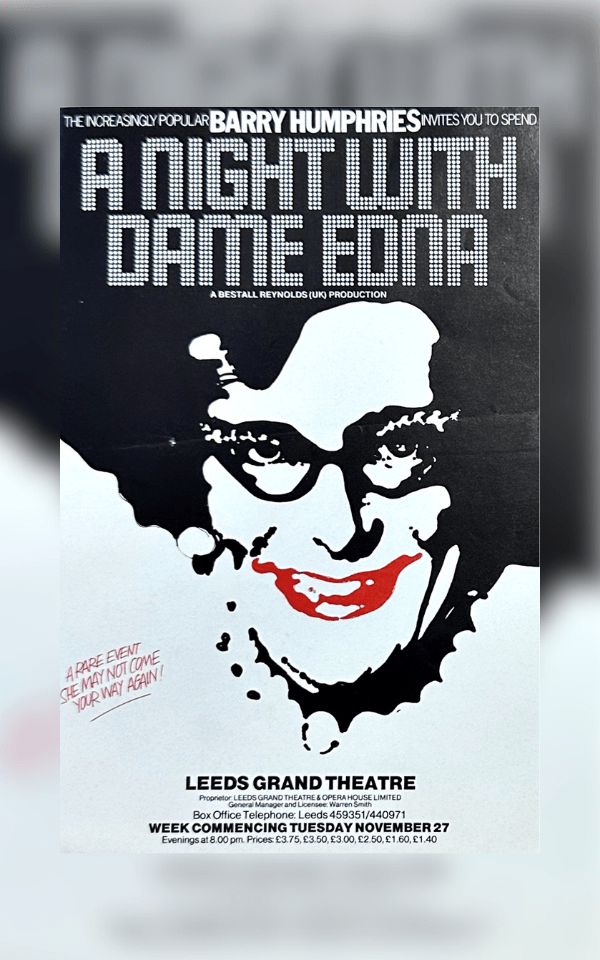 City Varieties Music Hall Building Fund
The City Varieties Music Hall is the gem in Leeds' crown. As the city's oldest theatre, we want to ensure that Britain's longest, continuously operating music hall is here for future generations, making it more accessible, sustainable, and comfortable. All donations will be fully invested in the building and equipment and will enhance your experience as a customer.