Isobel McArthur talks Pride and Prejudice* (*sort of)
There have been many adaptations of Pride and Prejudice over the years. So what makes the Olivier Award-winning Pride and Prejudice* (*sort of) so popular? We spoke to writer and co-director Isobel McArthur about this audacious retelling of Jane Austen's most iconic love story.
Written by Guest Author
Austen's original tale is so well loved as a book, television series and film, can you give us an insight into what makes this version of Pride and Prejudice, sort of?
I suppose what I was aware of when watching many of the other adaptations of this novel was a certain po-facedness which has taken hold over the past two-hundred years. For whatever reason, the humour of Austen's novel has repeatedly been side-lined in the interest of… I don't know… something so reverent that it's become positively solemn. The original book is a riot. So, this adaptation – told by the servants, using karaoke – is in the spirit of Austen herself and the way she writes. It's funny, feminist and front-footed.
Where did you first have the inspiration for Pride and Prejudice* (*sort of)?
I had a 50p copy of the novel from the second-hand bookshop below my flat in Glasgow. I was in my late twenties and had never read any Austen before. I assumed it would be starchy, unrelatable stuff – all red-nosed dukes and drawing rooms. How wrong I was. Opening at page one, I started laughing. And, crucially, not the knowing laugh of a literature graduate (although I am one, for my sins) – rather, the belly-laugh of a human being who recognised in the matriarch of this novel a woman I'd encountered a hundred times in my own life. I knew instantly that in this book were a set of observations and a cast of characters that needed to be shared with as many people as possible. 'Don't believe what you've seen at the movies!' I wanted to shout, 'Austen is a right laugh!'
Was there a favourite character to write when you were developing the show? What made them so enjoyable to tap into? 
Frankly, there isn't a dud in this book. Austen is as incisive an observer of human nature as I have ever come across in literature or drama. Although the puzzle of the multi-rolling in this show (we have a cast of just five) was a hell of a nut to crack at my desk, Austen's dialogue is such a gift to the playwright. Right enough, it is important to modernise, anachronise, adjust – so that a contemporary audience know at all times what it being said and what is happening – but, truly, you could write five cracking plays based on this novel without ever repeating yourself. It's gold dust, this stuff.
It's been some 200 years since the publication of the novel, what elements did you want to feel very 'of their time' in the piece, and what elements did you want to feel up-to-date?
Story-wise, it isn't a question of anything feeling old or contemporary per se because the novel remains so relevant. In our show, Pride & Prejudice is set to a pop-karaoke soundtrack. I began compiling a list of songs at the start of the writing process and discovered quickly that all good artists come to the same conclusions about love. When Jarvis Cocker tries to define it – he does so in the same terms as Austen. It's no coincidence. Some things just endure.
Just as pertinently however, this novel also remains relevant because women's struggle for equality is something we're still in the thick of. And, as the women telling this story are working-class women, the gesture of playing every part constitutes an act of doubly-transgressive triumph. When I put on Mister Darcy's jacket, my servant character occupies a space of the high-status male that she never could otherwise. And I myself, as an actor, get to play a character I'd never ordinarily get a sniff at.
Aesthetically, however, when it comes to old and new – it's a free-for-all! The design, music and tone borrow from a full 200 years of romantic history so expect things to remind you, your folks and your grannie of when you first fell for someone.
What are the physical challenges of the show, given the number of roles everyone plays?
It's a run-away train for the performers! There are 119 named characters in the original Pride & Prejudice. We have reduced this to an essential 18 in our production – played by just five actors. Lightning-fast costume changes are required from the cast throughout. They also play the instruments, sing the songs and perform all the scene changes.
However, this is not merely in the interest of economy. In our adaption, the Pride & Prejudice story is told by the female servants of a Regency Era household. During the Napoleonic wars, these women really did it all. They facilitated the making of art for centuries. And so demonstrating the work of the ensemble and the graft of those individuals who are so seldom at the centre of any period story felt an important gesture to make. Without these overlooked and undervalued servants of households like Austen's, we wouldn't even have the music, portraiture, or novels of the period (including this one).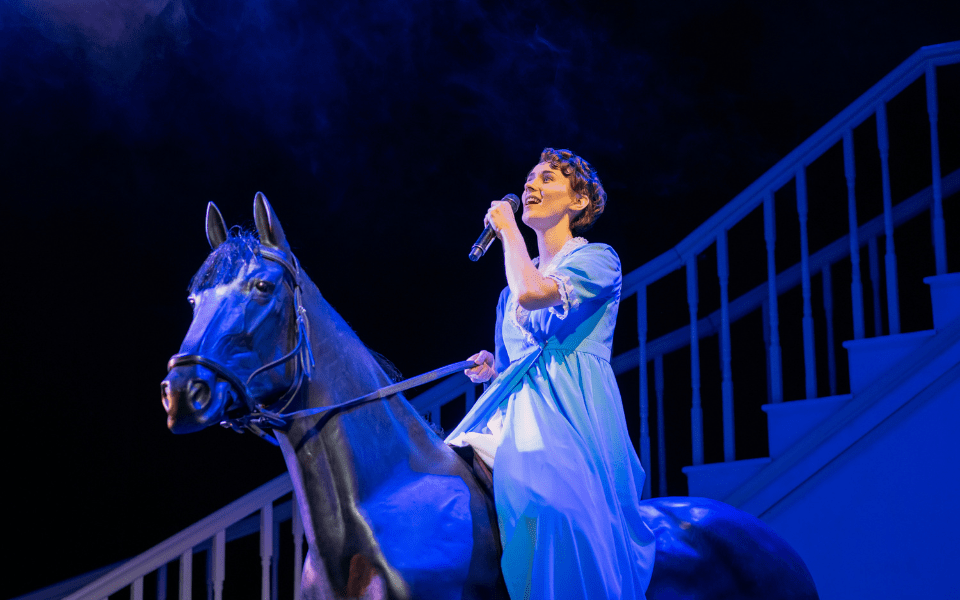 The show won Best Comedy or Entertainment Play at the 2022 Olivier Awards, and recently you won the Emerging Talent Award at the Evening Standard Theatre Awards, what was that feeling like for you?
I think we're all extremely proud of our collective achievements with this show. It first played at the Tron Theatre in Glasgow in 2018 with a two-week run planned. To be still doing it now is testament to the hard work and talent of the company and proof not only that audiences respond to generous entertainment but also that all-female casts with regional accents don't detract from historical or literary pieces but, rather, enhance them.
Do you have to be an Austen aficionado to enjoy the show?
Not at all. You don't need to know a single thing about Jane Austen or her books. In fact – please don't go looking up a synopsis. Theatre should not require homework. If you really like it, you can always go and read the novel afterwards.
Have you ever received a piece of advice that has stuck with you, or is there a piece of advice that you'd like to pass on?
If there's one over-arching thing that keeps me right, I suppose it's to continue to 'put myself' in the audience. It might sound so obvious but, keep asking as you write or make – does it still make sense now? Is it still exciting now? If I were sat there – what would I understand at this point?
Satisfying what an audience needs often means including things which feel blunt or clunky or obvious, having to work much harder – or just doing away with parts of your work you are fond of. But if the audience aren't looked after, the whole endeavour is futile.
Leeds Grand Theatre Building Fund
As a Grade II listed building, we want to preserve Leeds Grand Theatre for future generations, making it more accessible, sustainable, and comfortable; everything we do will enhance your experience as a customer. All donations will be fully invested in ongoing projects, including improved access facilities, changing our lighting to LED, and investing in a new Flying system.