Inside the Technical Theatre Training Programme
Leeds Heritage Theatres is excited to be working in partnership with University Centre Leeds of Leeds City College to train the next generation of theatre technicians. Weekly practical workshops at City Varieties Music Hall, led by our in-house Technical team, have resulted in six students gaining paid work with the team throughout the festive pantomime season. Read on to learn more about the students' experiences, in their own words.
Written by various contributers
Week One – Setting The Stage
By Toby Owen (Technical Theatre Tutor)
An exciting chapter began for myself and the budding Theatre Technicians freshly enrolled in our exciting new Production Arts foundation degree at University Centre Leeds. We eagerly embarked on the first week of a 16-week programme where students are taught in collaboration with the expert venue staff at the iconic City Varieties Music Hall.
Upon arrival, we were graciously welcomed by Catherine (Learning and Engagement Manager), Dave (Properties and Buildings Manager), and Mark (Technical Manager). The day kicked off with a comprehensive health and safety induction, crucial in any performing arts space. We delved into the intricacies of Construction Design and Management (CDM), gaining invaluable insights into the necessary preparations for any show and how current regulations shape the operations of a historic venue like this.
We then ventured into the maze-like expanse of the music hall, where the history of the venue presented itself at every turn. Catherine taught us about the astonishing variety of performances over the years. From legendary music acts to uproarious comedians, City Varieties has hosted some of the most illustrious names in showbiz including 30 years of the BBC's Good Old Days. Rumour has it that upon failing to escape from a Tetley's brewery barrel, Harry Houdini vowed to never return to Leeds!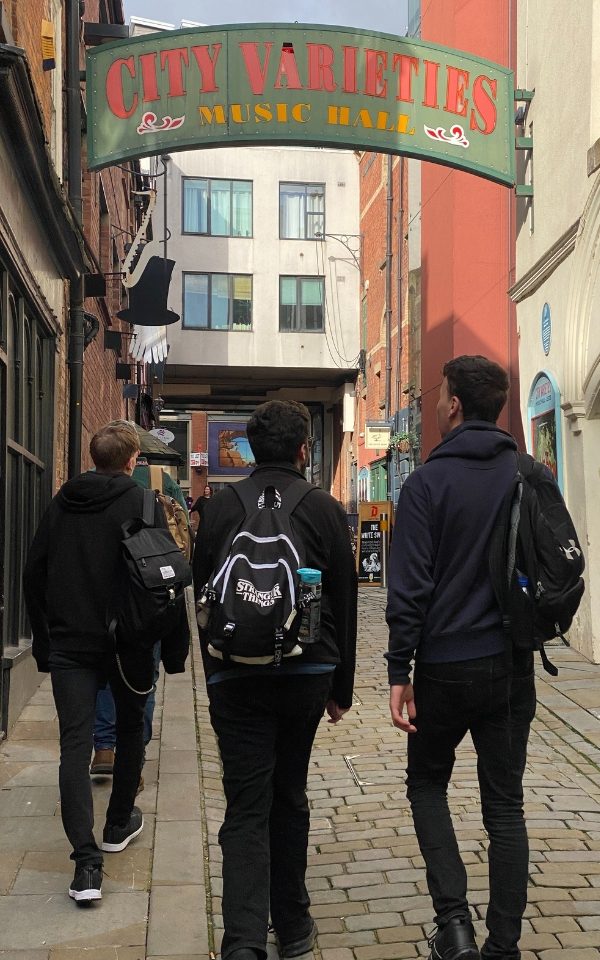 As we toured the various departments, we were treated to a brief glimpse of the depth and breadth of Dave and Mark's technical prowess. From lighting to sound, from stage managers to flymen, every cog in this well-oiled machine plays a pivotal role. We learned of the affection they have for the space but also of the challenges of integrating modern performances and technology into a centuries-old building, and how every nook and cranny of the space has its purpose. They also presented us with an intriguing challenge: locate the magical mystical conduit store. I was lucky enough to be tipped off, and if you find yourself visiting the venue and wondering when the technicians hide a big stash of three-meter-long electrical conduit… trust me you've already walked past three times and not noticed.
We look forward to delving into each backstage area in greater detail, but in their overview, Dave and Mark taught us the utmost importance of communicating and collaborating. Teamwork does make the dream work!
Week Two – Sound
By Polly Dobson (Student)
This week, we were introduced to Kieran who primarily works on sound. He showed us a presentation of all the different things the S`ound department needs to take care of to help run a show, such as setting up microphones, comms (for the team to communicate), and monitors (so the performers can hear themselves).
After this, we had a tour of the sound system where we were shown the basics of how to use the sound desk and where the delay speakers were. The delays are very important in sound systems, especially in venues like City Varieties, as sound travels slightly slower than light, so the delays allow the audience at the back to hear the same thing as the audience at the front.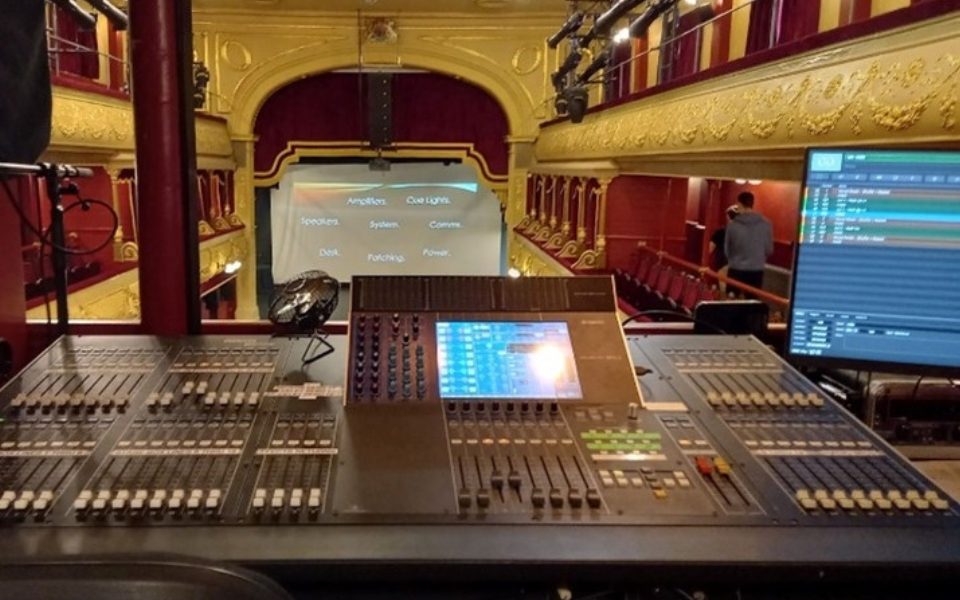 Finally, we were given the technical rider for that night's show, Judi Love, and split up into teams to set up the sound equipment for her performance. This involved setting up the microphones and monitor wedges before completing a basic sound check so that, when the tour team arrived in the venue, everything could be done as quickly as possible. This was very exciting for us to set up for a professional performance, especially since a lot of us had watched Judi Love on the TV.
Week Three – The Tools of the Trade
By Alex Lydon (Student)
On Friday 6 October, my fellow theatre practitioners and I undertook a stagecraft session involving training in manual handling and commonly used tools in theatre.
Some of the tools we learned to use when building/dismantling a set were podgers (always carry one or, ideally, two – a personal and a spare), quad spanners, wing nut spanners and an impact driver. We had a power tool demonstration in which we all had a go at securing a screw into a board and removing it. We learned how to properly use an impact driver and how to avoid stripping the head of the screw. We also learned how to remove a screw if it is stripped using mole grips.
The manual handling training consisted of ensuring you have proper positioning of the feet before bending with knees and legs while keeping your back straight. We also did a picking-up and setting-down practical demonstration to show that we can, and will, do proper procedures when manual handling in the future.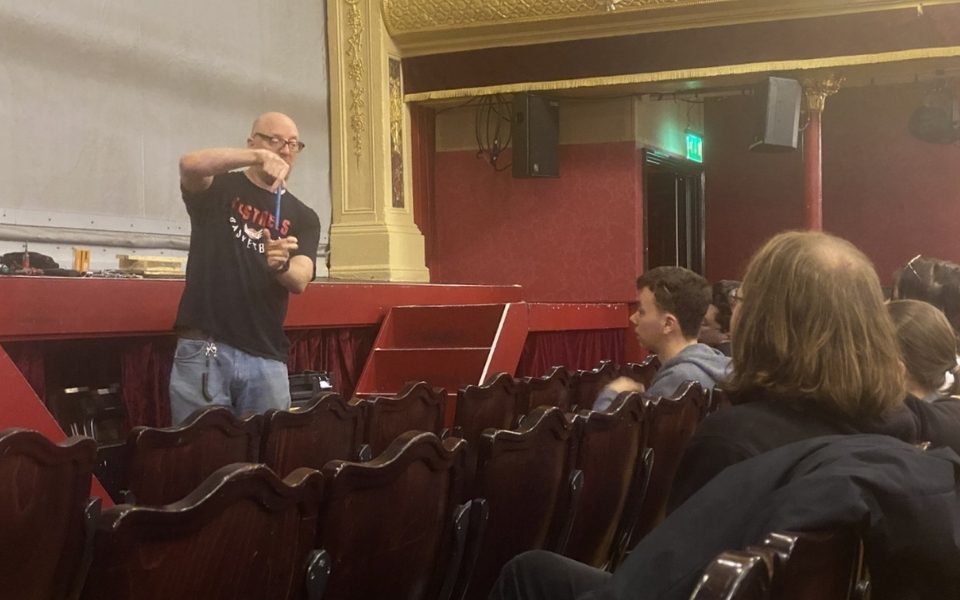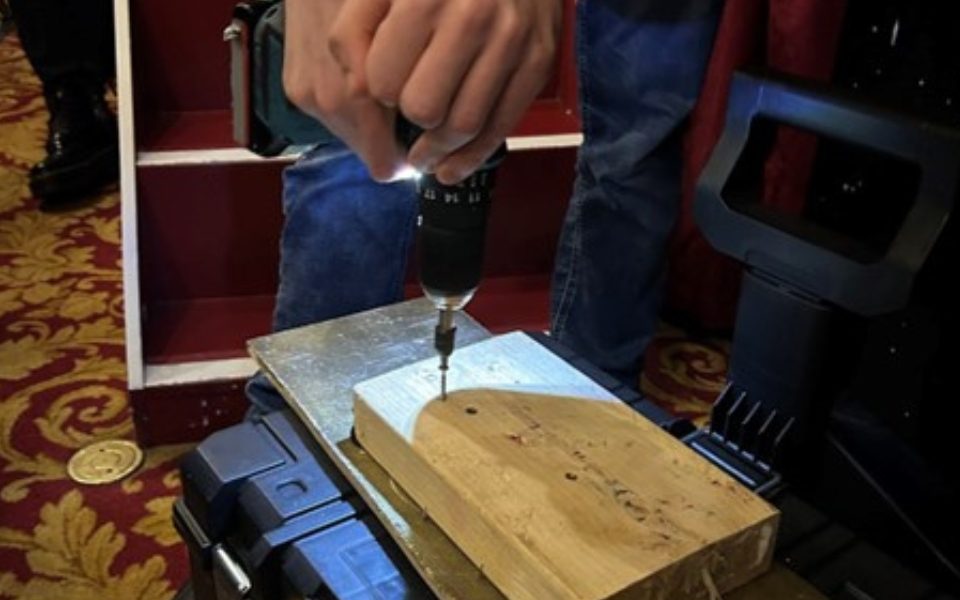 Week Four – Lighting
By Dan Lawrenson (Student)
This week, we had a lighting lesson with Sean, Senior Technician at this historic venue. To begin with, he ran a programme that showed all the different types of lighting fixtures and the features of each one.
After that, we went to the control booth and he ran us through what the lighting console could do. Sean showed us an interesting lighting cue he had created last year for The Addams Family where the auditorium lights snapped on and off in time with the clicks at the start of the music. This would have made the audience feel more like they were part of the show as it also affected the house lights around them.
Later on, we each had a go on the lighting console to create a lighting state, using things such as the disco ball and creating cool effects on stage, such as changing colours.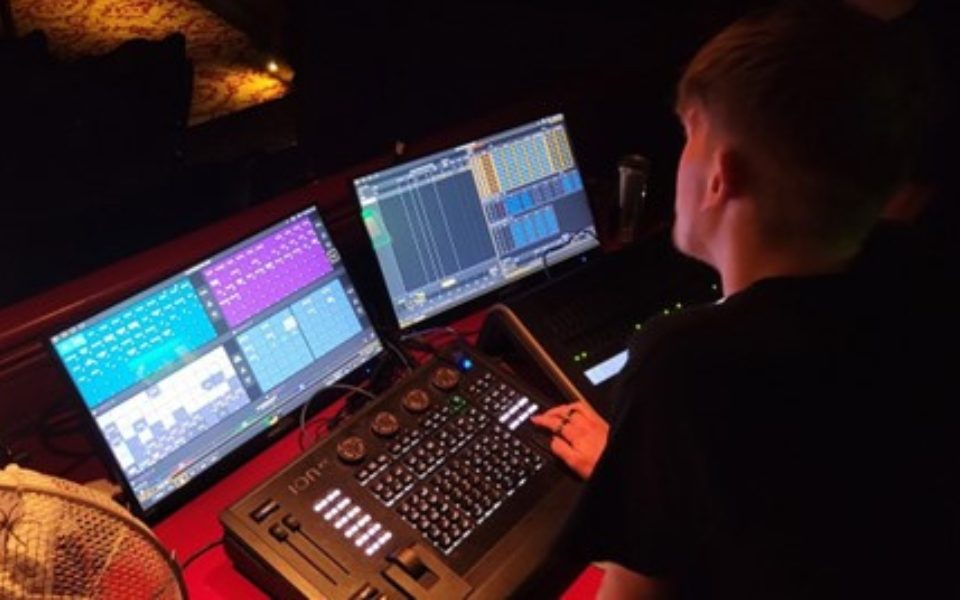 Week Five – Flying
By Channon Powell (Student)
This week, we got a behind-the-scenes look at flying, an element of theatrical production that many outside of the industry may not know about. Flying involves lifting things in and out the audience's view, whether that's a backdrop, a piece of scenery or the lighting rig.
In small groups, we climbed the ladder onto the cramped fly floor and were literally shown the ropes. City Varieties has an excellent selection of different types of flying technologies, from the old school hemp (ropes and muscle power sometimes aided by physics) to an electronic flying system (push a button and the angry pixies do the rest!).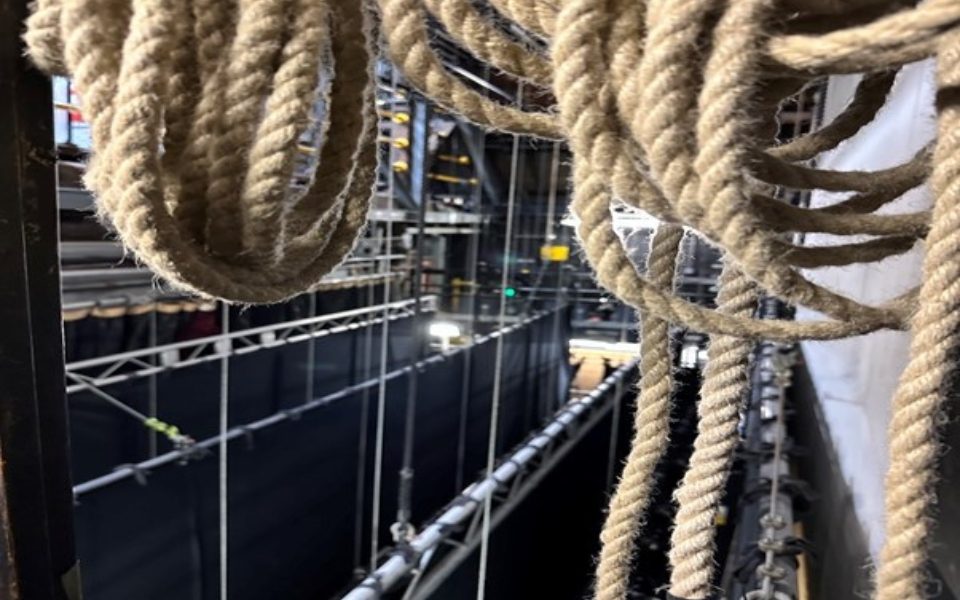 We were guided through the dos and don'ts. This included making sure everyone is safe below while moving hundreds of pounds of equipment 20 feet above their heads by using specific calls to make sure everyone is aware of what's happening. We were also taught to ensure that everyone continues to be safe after we've left by tying the hemp off in ways that mean nothing will move once it's left, but the next person will still be able to move it with ease.
We rounded off the session by taking it in turns to drop and raise the tabs, a full body workout that made me sorry for anyone tasked with doing it for any show that got a lot of applause – raising it once was enough for me!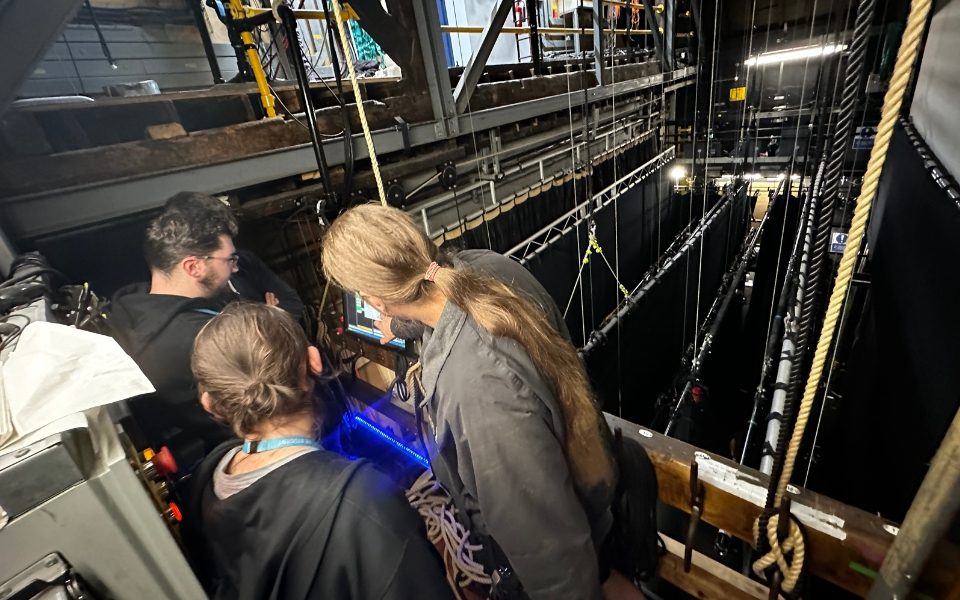 Week Six – Leeds Grand Theatre
By Polly Dobson (Student)
This week, we had a tour of Leeds Grand Theatre led by Dave (Properties Manager) and Catherine (Learning and Engagement Manager).
We started the tour in the foyer where we learned some interesting facts about the origins of the theatre. We then made our way into the auditorium which holds approximately 1500 seats. However, it used to have a capacity of 2500 as the stalls and balcony used to be standing room while the dress circle was once home to tables and chairs where people could be served food during the show. Over the auditorium, there is the 10ft wide chandelier which weighs a whopping 205kg.
After this, we went onstage where the set for The King and I was currently up and had a look at the 64-bar flying system. Next, we went up to the grid which is 22m above the stage. We even had an opportunity to go up to the roof and see two different beautiful views of the city. Then, we went down to the basement to see the old Box Office and stables where the horses were kept when sets had to be transported by train.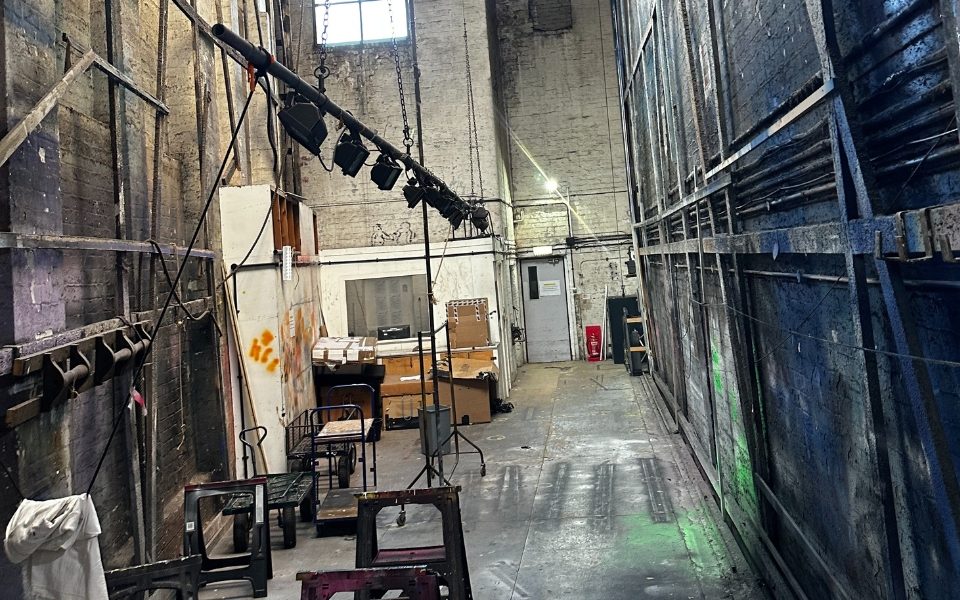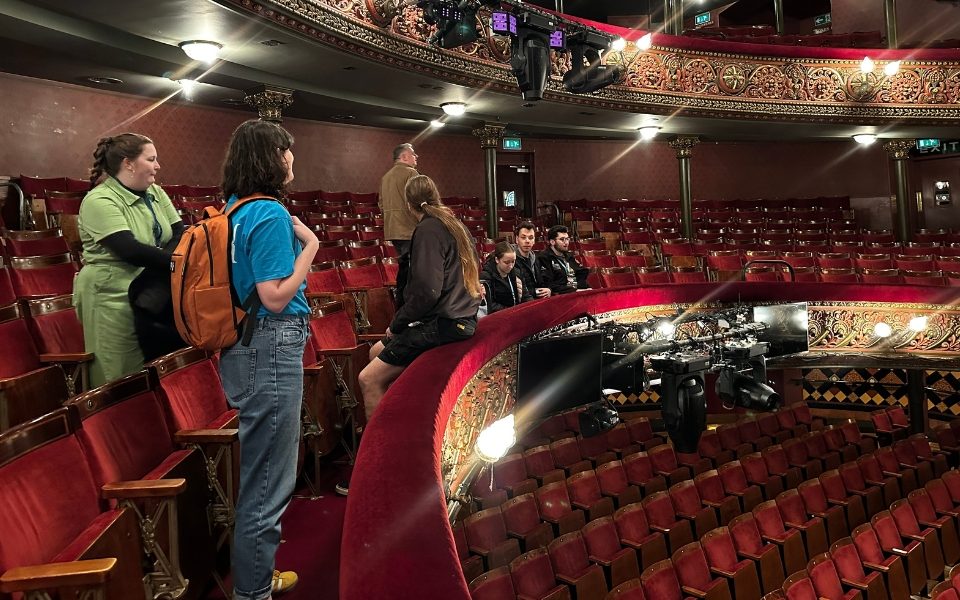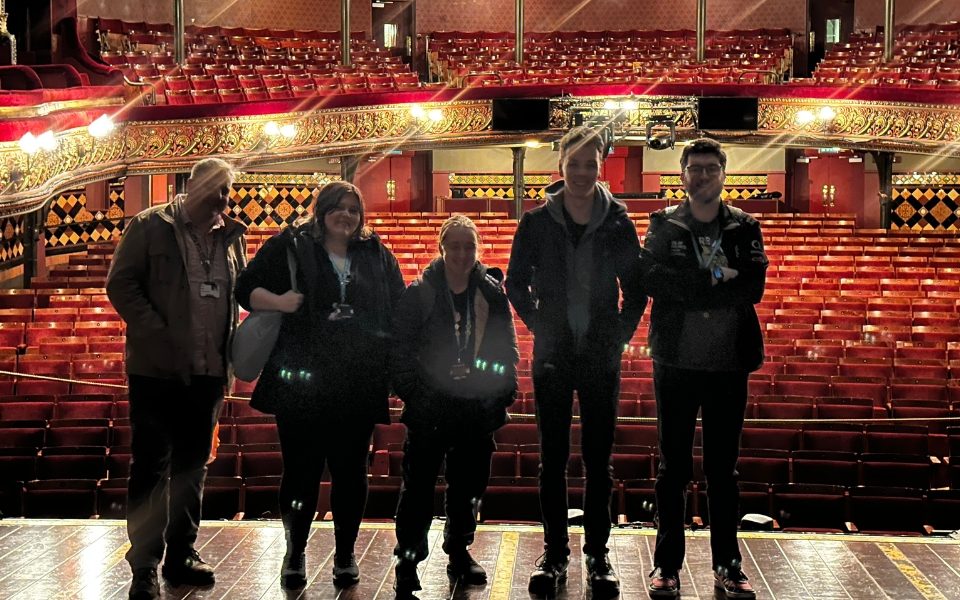 Leeds Heritage Theatres Engagement Fund
Every year, we work with over 10,000 young people across the city, in schools, youth groups and other sessions to help them build skills, confidence and pride through our creative learning and engagement programme. All donations to this fund will help us to continue our work and reach more people across the Leeds City Region.