Today we're shining a light on a different kind of backstage role in The Curious Incident of the Dog in the Night-Time: Animal Handler. We spoke to Des Jordan who is responsible for the furry friends in the show. As well as Curious, Des has worked on productions for both stage and screen, including Nativity! The Musical, The Ferryman and more.
Written by Bryony Jameson.
Describe a day in the life of an Animal Handler?
My days as an Animal Handler on tour with Curious are my favourite. Curious has a very special place in my heart having been on the show from day one. I enjoy walking into the theatre everyday, with that warm feeling in my heart, and doing what I love the most, working with my animals.
Could you introduce the furry friends appearing in the show?
The main animals we have in the show are the very handsome twosome Oreo and Biscoff. They are fancy rats, both male, and always into mischief.
Could you tell us a little about your career leading up to becoming an Animal Handler?
I have been an Animal Handler for over 25 years. Before launching my own company Performing Pets, I worked for various agencies, providing pets for filming and media. Performing Pets is now one of the biggest suppliers of pets for the entertainment industry.
Any career highlights?
Working with Sir David Attenborough had to be my biggest achievement so far. He is such an inspiration.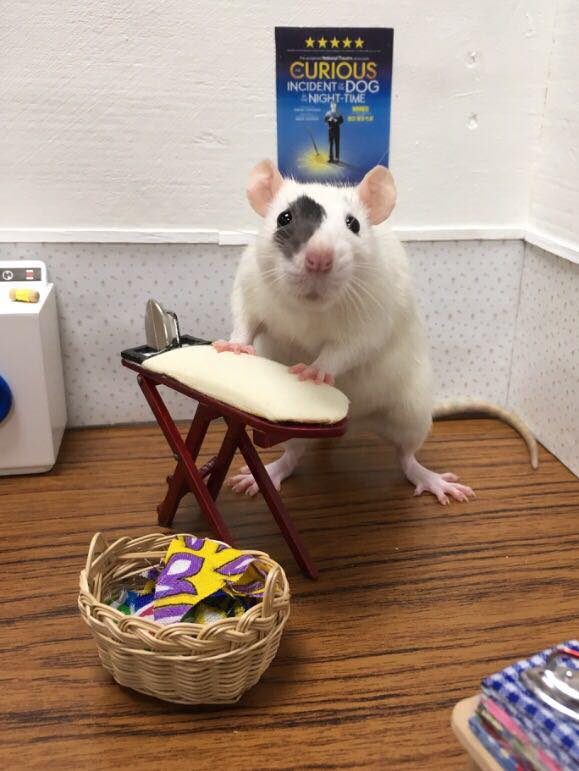 Are there animals that are easier to train than others? Do you have a favourite species/breed to work with?
My favourite animal to work with has to be farm animals. The team that we have at the moment have been reared within my home, on the bottle, as part of our family. I actually feel really rewarded to see these guys working.
What challenges do you face touring with animals?
My biggest challenge is missing my family and farm life. Although I love theatre, and the touring mode, I'm not a city man.
Any advice to anyone wanting to become an Animal Handler?
You never stop learning. Your animals always have to be your priority, don't take any chances. If you were an electrician and make a mistake you can replace that length of wire, if you are a chippy and cut your wood too short you can replace that. But with animals there's no room for mistakes.
Anything else you'd like to add?
Working with Curious from the very first day, this show has such a special place in my heart. We have seen many Christopher's, Sandy's and Toby's over the years but the show never tires.