To celebrate #NationalCartoonistsDay on 5 May, co-adapters Matthew Xia and Vikki Stone chat about their love for Hey Duggee and how they've adapted the hit cartoon series for the new Hey Duggee The Live Theatre Show.
Written by Sarah Rhodes
CBeebies hit series
From the moment Duggee 'A-Woof'ed' his way on to CBeebies back in 2014, children and parents alike have been captivated by the lovable Clubhouse leader.
Duggee and the Squirrels, who join him for fun, adventures and hands-on learning at the Clubhouse, were an instant hit with viewers. Their popularity has only increased ever since, with Hey Duggee being the most streamed children's show on BBC iPlayer in 2022 for the third year running.
Now Duggee and the Squirrels are on the road in an all-new stage production. Hey Duggee The Live Theatre Show – named the Best Family Show at the 2023 Olivier Awards – is visiting no fewer than 37 theatres on a UK and Ireland tour, featuring non-stop fun, laughs, singing and dancing.
Responsible for making that shift from screen to stage are co-adaptors Vikki Stone and Matthew Xia.
As well as working in theatre, Matthew was known as DJ Excalibah – and was in the original line-up on BBC Radio 1Xtra, as well as DJing for the London Paralympic Games opening ceremony. "When the producer Kenny Wax first approached me, he said: 'I'm not sure if you've heard of Hey Duggee…', and I said it's one of my favourites," explained Matthew, also the live show's director. "My daughter was born in 2014, the same year Hey Duggee started, so we've really grown up with the show."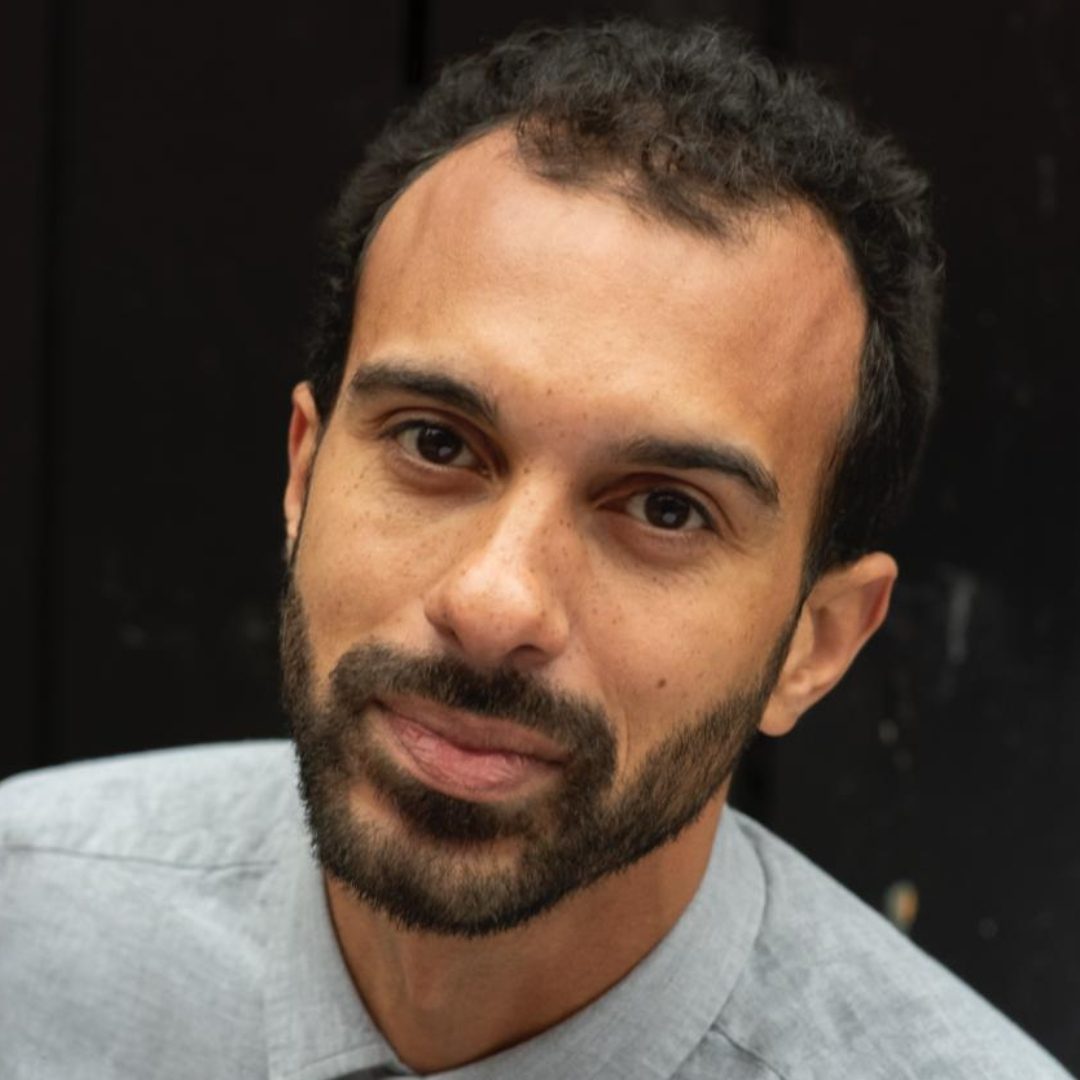 Alongside her work as a composer and musician, Vikki is also a stand-up comedian. She made history earlier this year as the first female musical director of a house band on UK television in more than 20 years, with her appearance on ITV's Romeo And Duet.
By contrast, Vikki, who is also the live show's musical supervisor and arranger, hadn't seen a single episode: "I didn't know Hey Duggee at all when I was approached. So, I spent a long time getting very closely acquainted with the show, and now I love it!
"I very quickly got pulled into it and caught up in the world of Duggee, the Squirrels and their friends. It's very funny and full of joy and laughs.
"And I very soon realised how special Hey Duggee is, that it sits in the realm of co-viewing; the adults are watching it with their children, not just putting it on to entertain them while they're doing something else."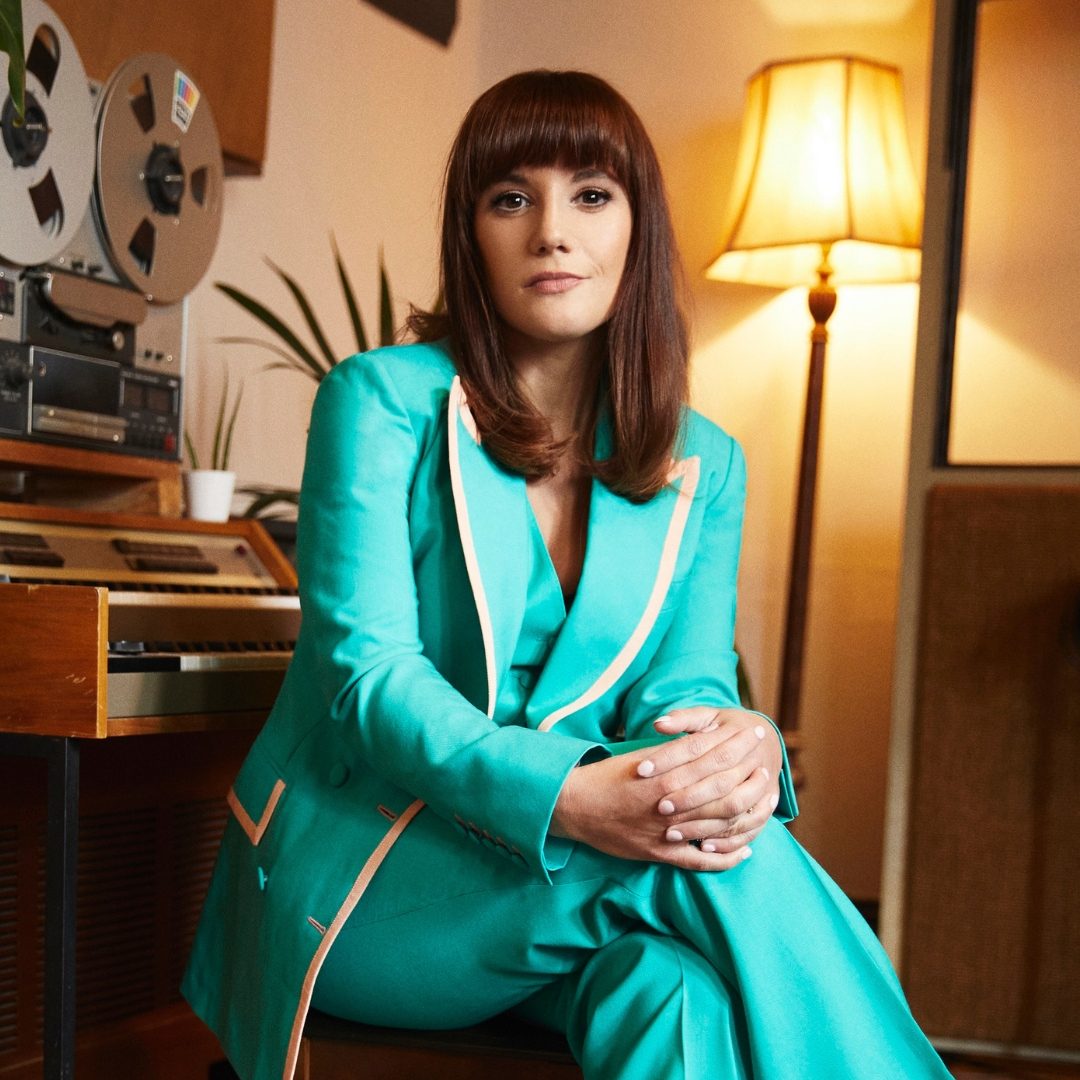 Olivier Award-winning stage show
So how did you tackle creating Hey Duggee The Live Theatre Show?
Vikki: The first day, Matthew and I sat in an office and had our own lists of our favourite bits – and we had chosen a lot of the same things.
It has been really interesting working alongside the Hey Duggee TV team [including the TV show's creator Grant Orchard]. Duggee is effectively Grant's baby. They are new to theatre and are amazed at what we can do that TV can't, or how we translate things from TV into a live setting. With the animated series, the script has to be locked in and cannot be altered from that point. The dialogue is recorded, and then it's animated to fit. Whereas, in theatre it's almost the opposite – we can tweak the script all the way through the process.
Matthew: Kenny [Wax – Co-Producer] had given us pretty much free reign. That also made the challenge even greater. Taking 156 episodes, each one seven minutes long, and turning them into a complete theatrical experience for children. Series one and two I knew really well – I'd seen those episodes a lot. Any parent knows what it's like! So, I kind of knew where the hits were. We had to keep the big format of the show, you know – where the narrator says to the Squirrels 'Do you know what time it is?'. That's the start of the adventure, and that had to be the same on stage.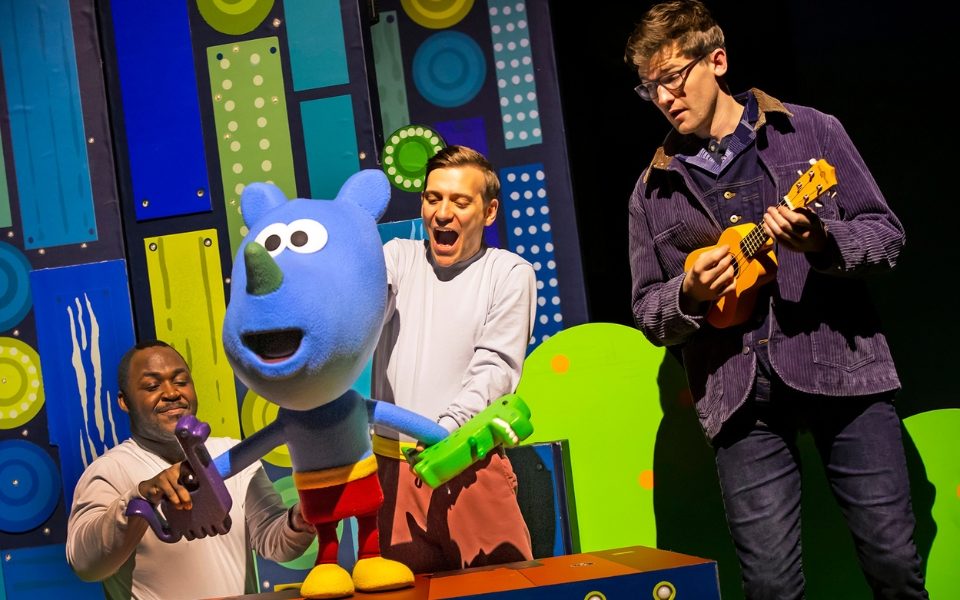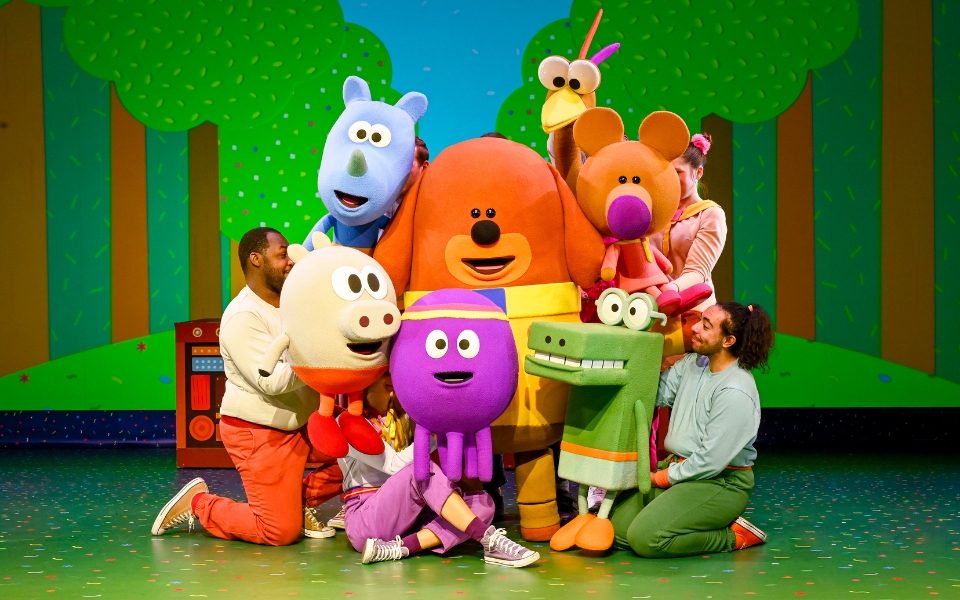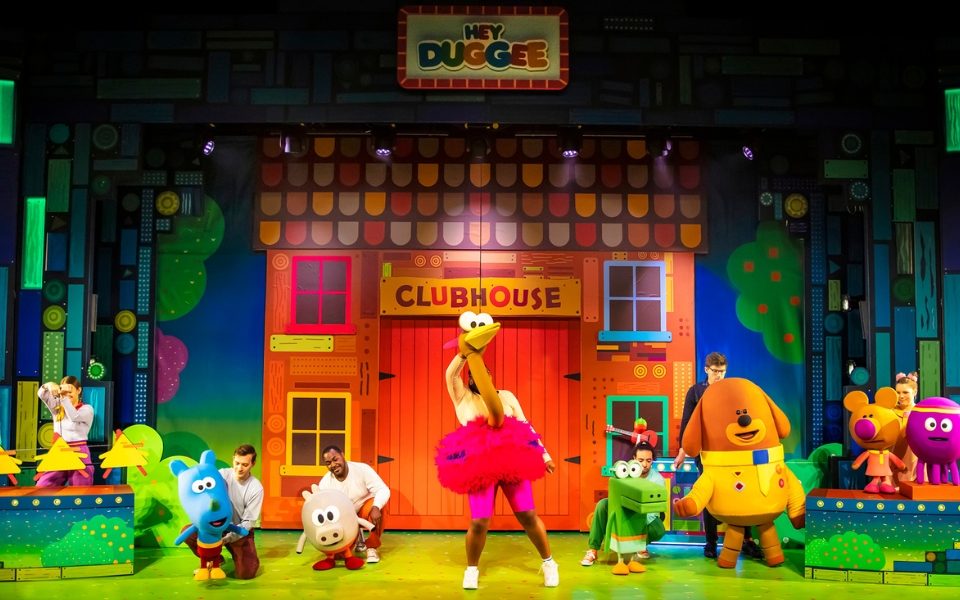 With more than 150 episodes to pull from what can fans of Hey Duggee expect from the live theatre show?
Vikki: We had to think about what an audience member would want and expect to see from Hey Duggee on stage; badges, songs, jokes, in-gags. It's all there.
We were spoilt for choice with the songs! I wanted to treat Hey Duggee The Live Theatre Show as a musical, where the songs could move the story along – and the songs we've pulled from the TV series do that brilliantly. We've taken those songs, added harmonies and dance breaks, made them longer, done all the things which would make them work for stage rather than TV. And there is a brand-new song, unique to the stage show, which is just fantastic.
Matthew: Essentially, we have created a big quest story. The Narrator's voice has been really important, it's that big question setting up each episode: 'Hey, Duggee, what are you doing?'. Without spoiling it, the Squirrels have never been to a show before, and they set out to learn about all the things that go into making a show and earn the relevant badges.
We've brought in some of our favourite Hey Duggee stars to help the Squirrels – Mrs Weaver, Hennie and Chew Chew, who I can mention, as well as several more that I can't… And the children and families in the audience are very much going to be part of the Squirrel gang. They will have important things to do!
Popularity
Since bursting onto TV screens in 2014, the hit Studio AKA production with BBC Studios and CBeebies has won no fewer than seven BAFTAs and is an international Emmy award-winning hit.
What do you think makes Hey Duggee so popular?
Matthew: There are so many brilliant references in it for the adults, and then this exceptionally strong look and style that's so instantly recognisable. When adults enjoy a kids' programme, that's a very sweet spot to hit. Hey Duggee as a TV show is just so playful. It's really non-judgemental in a most beautiful way – just as children are.
Vicki: There is a lot of activity in the Duggee world that just exists, with the wonderfully subtle light touch. You know, Happy is a crocodile and his parents are elephants. You see that in the show's titles, and straight from the off it is subtly stating that families come in all shapes. But there's never any question or issue made of it. There's so much social commentary within the show, but it all just 'is'. The modes of transport that the Squirrels come to the Clubhouse in, where they travel from, it's all there but without any fuss. The TV show is just so brilliantly inclusive, without being virtue signalling – and that's a beautiful thing for children and families.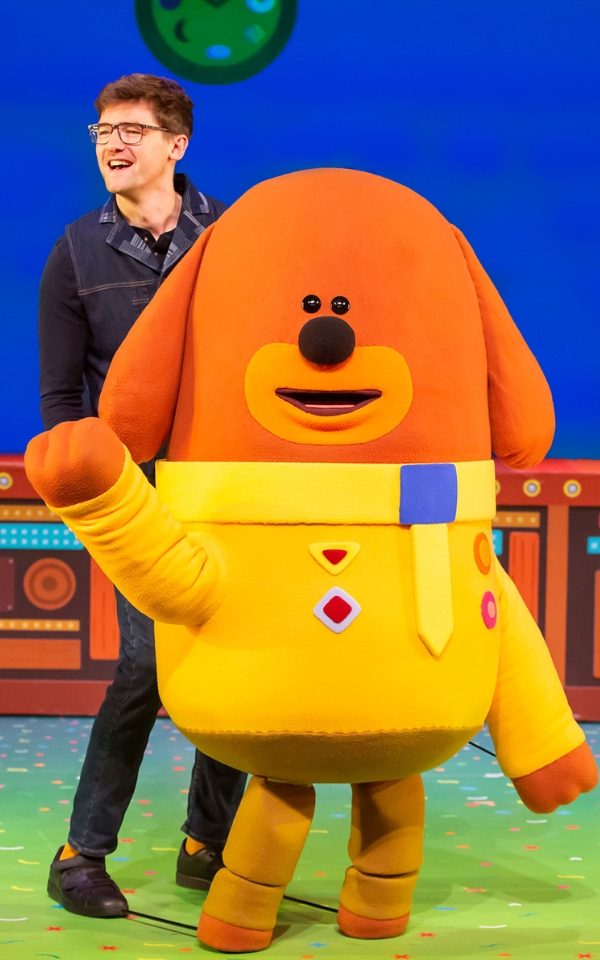 Have you felt the pressure of recreating such a well-loved TV show?
Matthew: I do feel slightly petrified of letting people down, as Hey Duggee is such a very special TV programme. It's a huge responsibility to take such well-known characters and to meet all the expectations. Added to that, for many of the children coming to Hey Duggee The Live Theatre Show it will be their first theatrical experience. How exciting is that?
Quick-fire questions
Favourite Hey Duggee moment?
Matthew: In The Super Squirrel Badge, the Squirrels are naming their superhero characters. Norrie says something like 'Super Mouse' or 'Fast Mouse', and the Squirrels all look to Roly, who doesn't quite get it (as he often doesn't), and say 'What's yours, Roly?'. He says 'Roly', and they say 'No, you need a different name.' Roly punches the air and shouts 'Steven!' It's just so simple, so typical of the character, and so funny.
Vikki: I love eggs, so The Omelette Badge and The Egg Badge both really hit the mark for me. And you might find some reference to them in the stage show…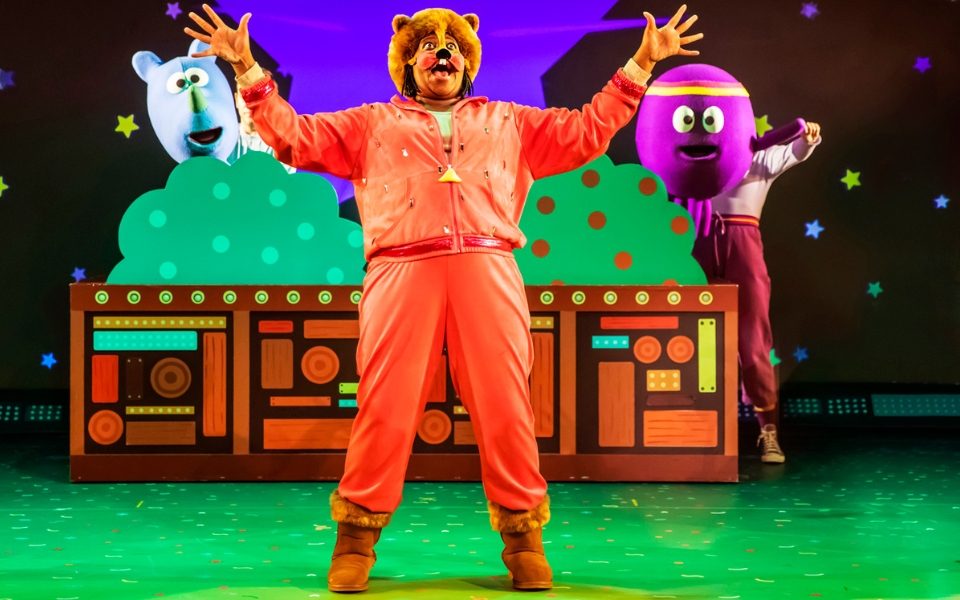 Favourite Hey Duggee character?
Matthew: I love Roly. He's a lot of fun, full of energy and slightly louder than everyone else.
Vikki: A lot of the secondary characters. Mrs Weaver, Hennie and Chew Chew are brilliant, so I've loved working them into the show. And then there are characters like Mr and Mr Crab just woven into it, and existing with no commentary that they are two males.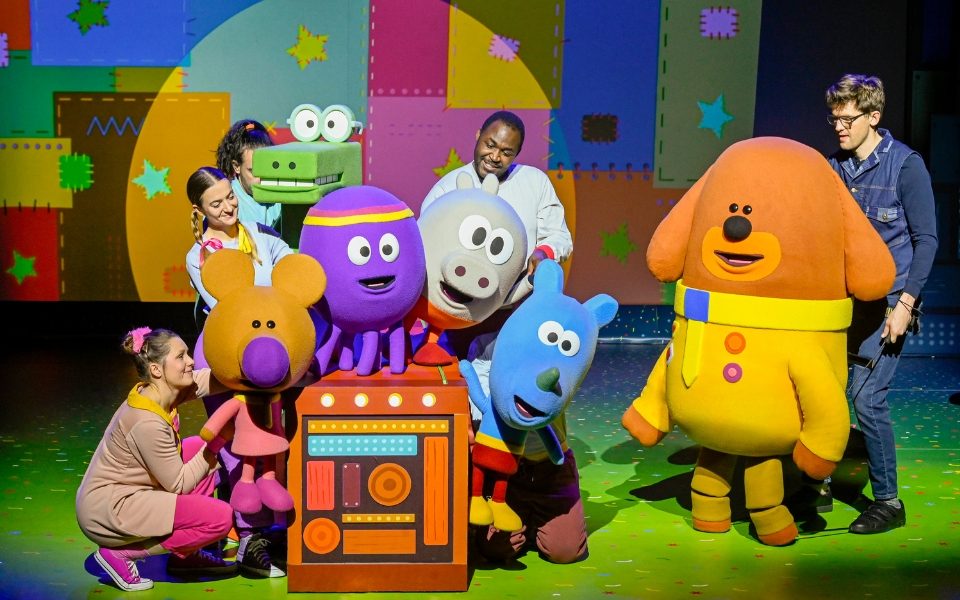 Which Hey Duggee character are you most like?
Matthew: I'm torn between Roly and Betty. Roly reminds me of myself. At the same time, I can be quite like Betty too, in my introverted side, with my head in a book trying to understand the universe.
Vikki: Roly. I get easily excited and I like to shout.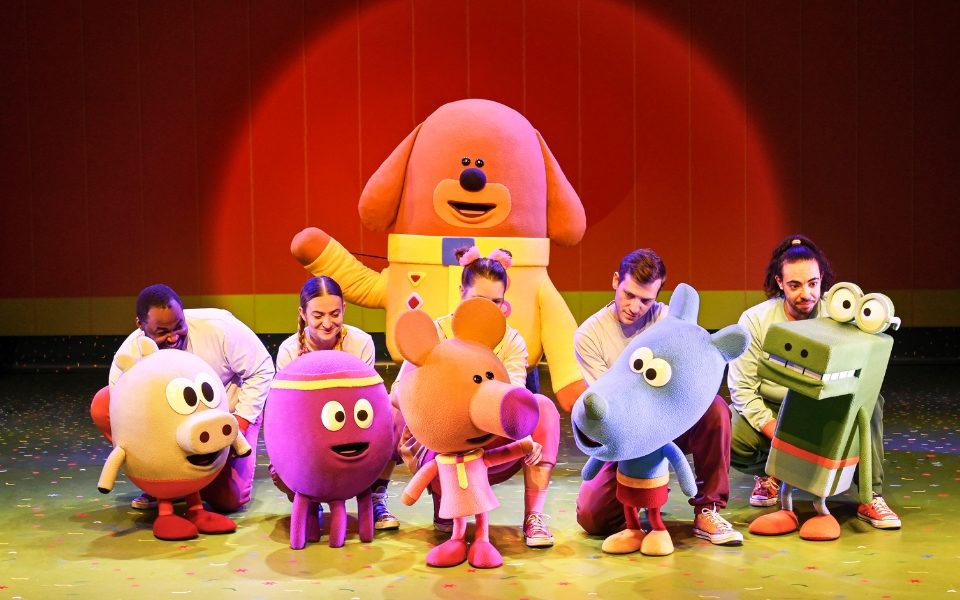 Leeds Grand Theatre Building Fund
As a Grade II listed building, we want to preserve Leeds Grand Theatre for future generations, making it more accessible, sustainable, and comfortable; everything we do will enhance your experience as a customer. All donations will be fully invested in ongoing projects, including improved access facilities, changing our lighting to LED, and investing in a new Flying system.