Albert - Candle-Lighter and Craftsman
As The Good Old Days celebrates 70 years since its first broadcast, we remember those behind-the-scenes that made the show such a great success.
Our archive tells us stories of performers to the Producer Barney Colehan, we have uncovered a brilliant article from 1973 which casts light on Albert Aldred, the carpenter responsible for ensuring the show ran smoothly for 20 years.
Original 1973 author unknown, credit BBC and West Yorkshire Archive Service. Research by Bryony Jameson.
The man who does the impossible
Each week, a familiar but unidentified name turns up on the list of credits at the end of the show.
Everyone else appears to have a role: the producer, the musical director, the sound man, and the guest artists.
Albert Aldred has nothing to do with any of these things: he is the man, resplendent in splendid mutton chip whiskers, silk waistcoat and starched white apron, who is seen almost every week lighting the candle on the Chairman's desk. He isn't an actor and that is by no means all he does.
He is the show's carpenter and craftsman, with more than 40 years of service in the BBC.
Now a sprightly 72-year-old, Albert retired in 1972, and was awarded a British Empire Medal for his services to broadcasting. But he still works on the show he loves the most, assembling the stage extension surrounding the orchestra pit on which the Chairman's desk is placed. He is also responsible for any props which need building for acts.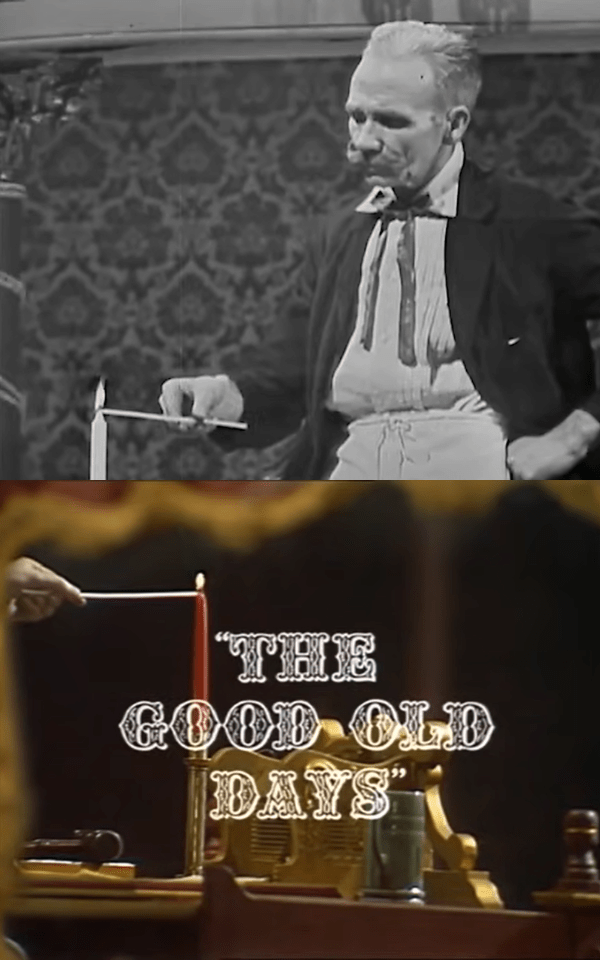 A Job at The BBC
It's a far cry from the 1930s when he first started work for the BBC. Before that, he had been the foreman with the workers converting the building which the BBC was going to use as its Leeds studios.
"Times was hard then in the building trade and I knew I would probably be out of a job as soon as the work was finished. So I dropped a few hints and they decided to take me on as general handyman.
"What I didn't expect was to end up with five different jobs – all at the same time. I was caretaker, boilerman, maintenance-man, commissionaire and studio attendant during shows. When the big-wigs came up from London, they didn't always know what I was meant to be doing, and neither did some of the people who I was working for!
"One time, I was doing a job in my shirtsleeves when one of the big-wigs spotted me and asked who I was. When he was told I was the studio attendant, he decided I was improperly dressed and should have a coat. This was before uniforms had come in for commissionaires and the like, so I was despatched off to a tailors in the City where I was fitted out with a grand three-quarters frockcoat with BBC badges on the lapels. Very splendid it looked, but I felt proper silly and was glad when I got a uniform instead.
"I enjoyed working in the studio the most. I would get roped in for all sorts of jobs, including doing the sound effects on plays and on programmes like 'Children's Hour'. They used to call me Uncle Albert on the show."
The Good Old Days
"When television came in the early 1950s, I was one of the first people working on it. I soon met Barney (Colehan), who told me he was doing this Music Hall show, which later became 'The Good Old Days'.
"I had some rum jobs, and sometimes I'd wonder whether I could do them, but Barney always knew how to get round me.
"He'd say 'Albert I'd like so-and-so making. If you can't do it, we'll get someone in from outside.' That was it for me, of course. He knew I couldn't resist a challenge.
"I remember one of the weirdest things I was asked to do was for a comic who was doing a cricket sketch. I had to go up to Headingley, where Yorkshire play and they have the Test matches, and get all the right gear, pads and whites and the like. But I had to build one prop he wanted: a cricket bat with a rubber handle. It brought the house down when it was used on the show, but I never saw it again. Someone must have taken it as a souvenir.
"When Barney started having trapeze artists and girl singers on a swing on the show, I had to go climbing about in the rafters above the theatre to find the beams to support them. I found the original holes in the ceiling made by the Victorians and the marks on the beams made when they were doing the self-same thing a hundred years ago."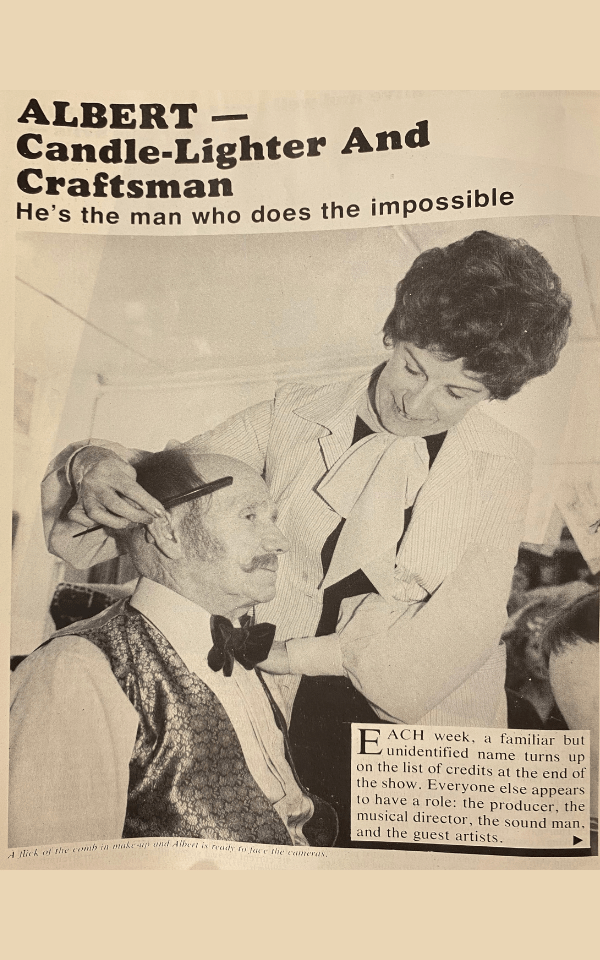 Despite his advancing years, Albert still insists on coming in on Saturday night to supervise assembling the stage extension and other props he has lovingly built for the show, often working until 2.00 a.m. and beyond to get things finished before rehearsals start later in the morning.
He has sometimes had to work until 4.00 a.m. when there has been more work to do, like putting up the flags for the Queen's Silver Jubilee edition (Queen Victoria, naturally), or the festive decorations for the Christmas show.
"I were on my way home about 5.00 a.m. one Sunday when a policeman stopped me. He must have taken me for a wrong 'un, because even when I told him where I'd been, he insisted on coming home with me to check my story.
"Would you believe that when I got there, I couldn't find the key and reckon he would have taken me down to the station if the wife hadn't come to the door just at that moment and let me in. She made us both a cup of tea, and I think he believed me then."
City Varieties Music Hall Building Fund
The City Varieties Music Hall is the gem in Leeds' crown. As the city's oldest theatre, we want to ensure that Britain's longest, continuously operating music hall is here for future generations, making it more accessible, sustainable, and comfortable. All donations will be fully invested in the building and equipment and will enhance your experience as a customer.