Unlocking Leeds: Houdini's Local Legacy
For Escapology Day on Thu 21 September 2023, we're taking a look back at Harry Houdini's legacy in Leeds. Dubbed 'The Handcuff King', Houdini wowed audiences across the world, and made multiple visits to Leeds – not just at our own City Varieties Music Hall, but also at the lost Empire Theatre.
Written by Aaron Cawood. Researched through West Yorkshire Archive Service.
A Houdini History
On 24 March 1874, Erich Weisz was born in Budapest. The name change would not come until later, with Weisz making his performance debut at only age 9, as 'Ehrich: The Prince of the Air', a trapeze artist. 
After reading Memoirs of Robert-Houdin, the autobiography of magician Jean-Eugène Robert-Houdin, Weisz took up the stage name Harry Houdini and began performing card magic. Though he was never heralded as a deft sleight-of-hand magician, his interests soon turned towards the art of escapology. It wouldn't be until years later, after marrying Wilhelmina Beatrice Rahner (who would eventually become best known as his assistant 'Bess') and departing a double act with his brother, that Houdini would catch his big break. 
Once a manager stateside had taken a shine to him, Houdini worked American Vaudeville circuits and tried eventually to break Europe.
Facing little success, Houdini eventually demonstrated a handcuff illusion at Scotland Yard and, baffling even the police officers, was offered a six-month engagement on London's West End.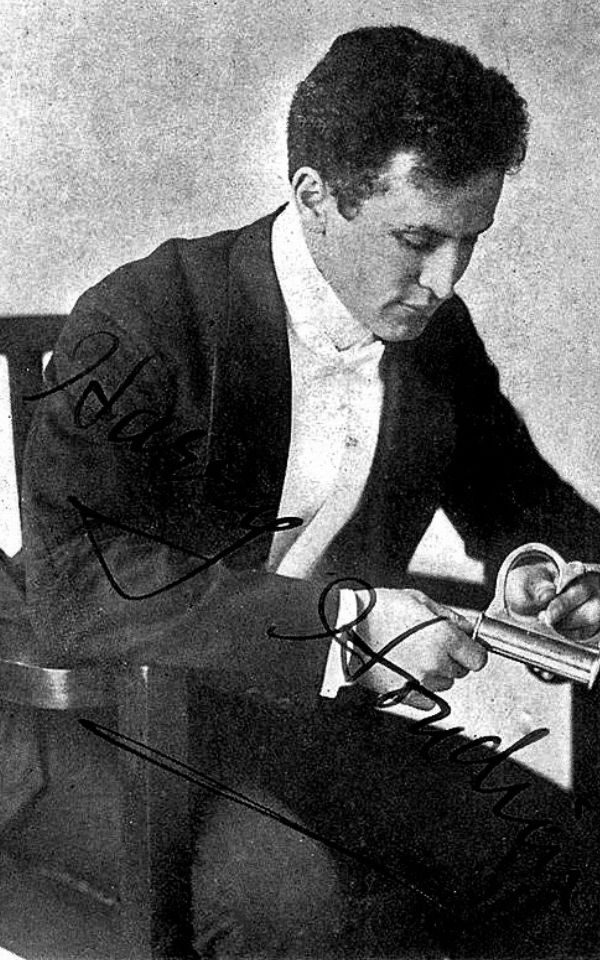 The Great Escapes
Embarking on a tour around Europe, Houdini visited The Varieties on two occasions, first in 1902. 
For this engagement, Houdini was paid £130, 18s 6d for the week. Today, that is approximately equivalent to £10,234.70 – or 396 days worth of wages for the average skilled tradesman at the time.
The management books from the time state that the performance was 'extra special'. Houdini would go on to return to The Varieties in 1904. 
Arguably, though, these may not have been his most famous visits to Leeds. When the Empire Theatre still operated on Briggate, Houdini made appearances there too. Most notably, in 1911, Houdini accepted a challenge from the staff at Tetley Brewery.  
Taking one of his most iconic stunts, in which he would escape from a sealed milk can filled with water, the staff suggested he should escape from a full beer barrel instead. Accepting the challenge, the night was advertised with specific notice – 'it is positively the first time that such an affair has taken place in any part of the world'. 
But, in an unexpected twist, it's recorded that Houdini lost consciousness while inside the barrel. He was freed by his chief assistant, and the event has gone down in history as one of Houdini's only failed escapes.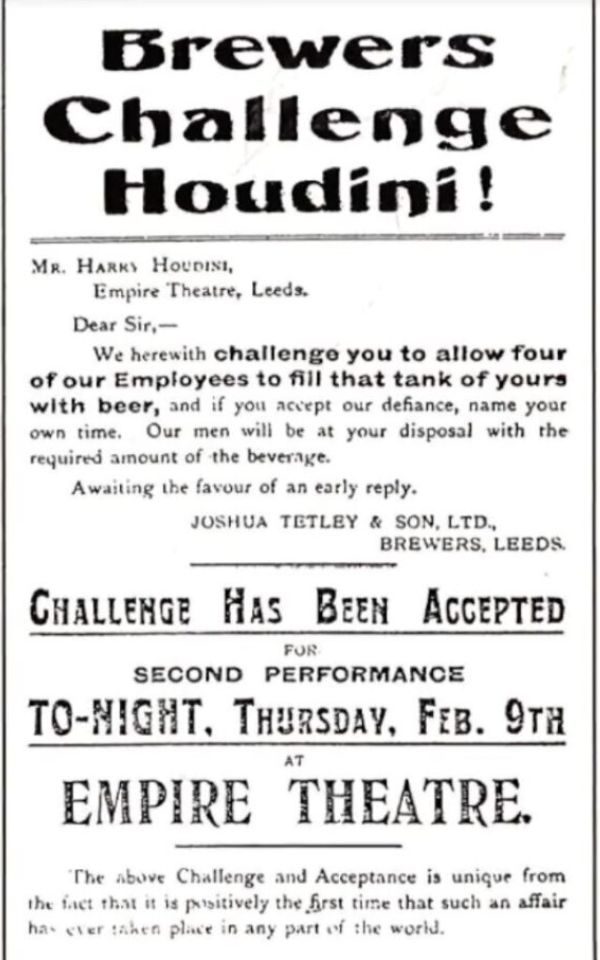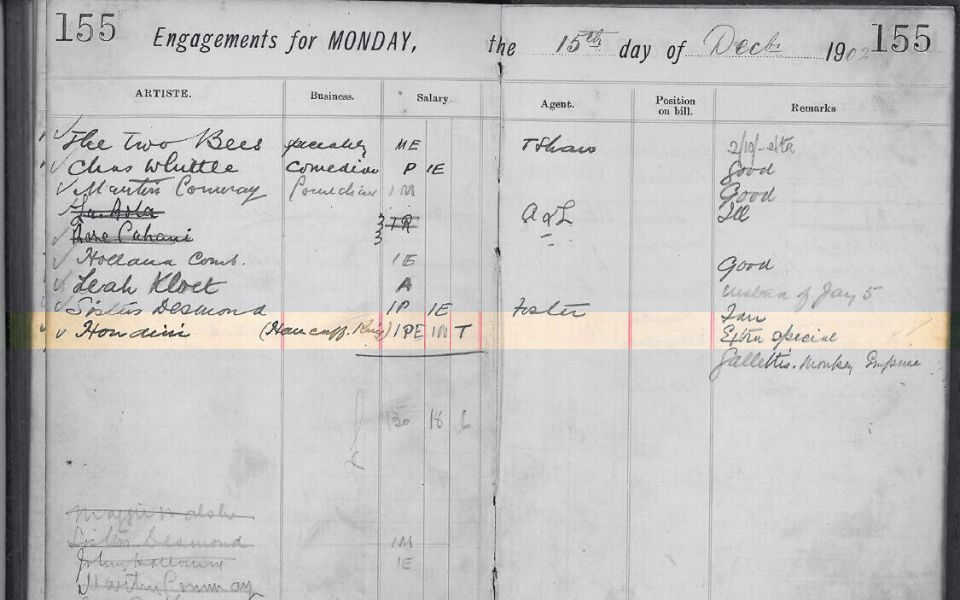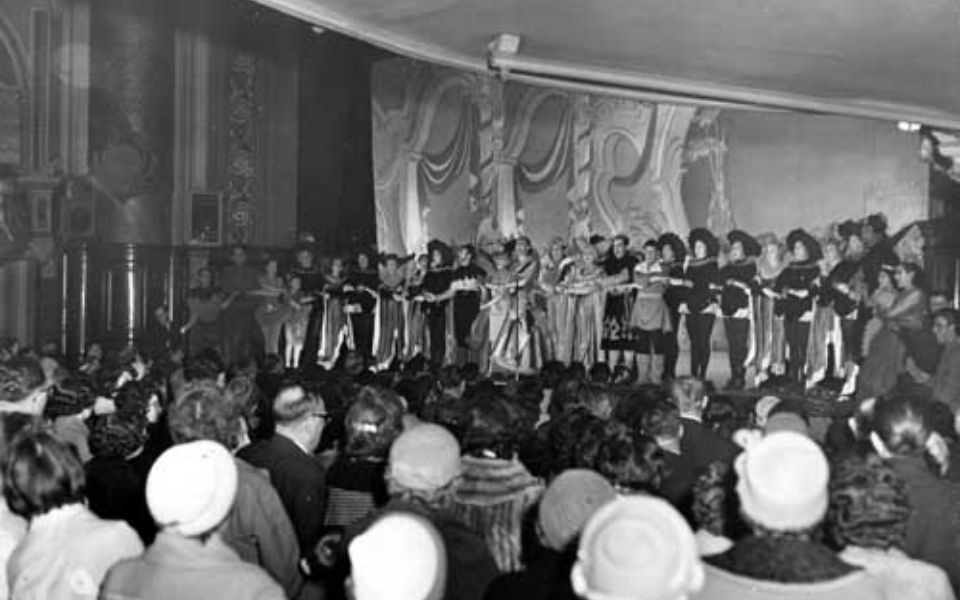 Did You Know?
Houdini once escaped from a 'sea monster'. Chained inside the mysterious carcass that had washed up in Boston, he later said the chemicals used to embalm the creature almost caused him to faint.
Houdini owned a movie studio. In fact, he had a brief film career, including The Master Mystery and The Man from Beyond.
He was an avid aviator, and in 1910 he became the first person to pilot a plane in Australia.
Though Houdini passed away in 1926, it has not stopped people from trying to get in touch. His wife enacted annual séances after the loss, and once she gave up, the tradition was adopted by the Houdini Museum. These annual séances continue to this day every Halloween – which happens to be the anniversary of his passing.
City Varieties Music Hall Building Fund
The City Varieties Music Hall is the gem in Leeds' crown. As the city's oldest theatre, we want to ensure that Britain's longest, continuously operating music hall is here for future generations, making it more accessible, sustainable, and comfortable. All donations will be fully invested in the building and equipment and will enhance your experience as a customer.